News & Notices
In Memoriam: Sonny Sonnenfeld
Memories of Sonny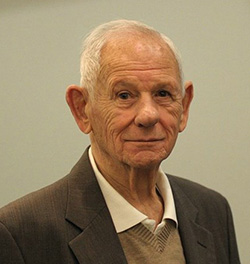 On Wednesday, Feb. 10, the lighting community lost one of its stars. Sonny Sonnenfeld died at age 96, just weeks after learning he had won USITT's 2016 Distinguished Achievement in Lighting Design & Technology Award.
A founding member of the Institute and a Fellow since 1997, Sonny called USITT "my continuing education program." He also founded the Broadway Lighting Master Classes and the annual Stage Lighting Super Saturday in New York. He was both a legendary entertainment lighting salesman and a pioneer in architectural lighting.  Architectural Lighting Magazine named him to its Lighting Legends Hall of Fame in 2001. In 2003 he received the Wally Russell Lifetime Achievement Award.
Sonny's companion, award-winning lighting designer Jennifer Tipton, will accept his award from USITT's Lighting Design & Technology Commission and participate in a tribute to Sonny led by his friend Scott Parker on Friday, March 18, at 5:30 p.m.
Meanwhile, Sonny's life was celebrated far and wide, with many industry leaders and publications honoring his contributions.
Here are some excerpts:
From Fred Foster, CEO of ETC, where Sonny worked for 10 years until 2004: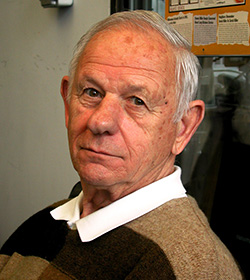 "Sonny cared. He cared about lighting, he cared about business, but most of all, Sonny cared about his customers. When I first heard about him from ETC Vice President of Sales Mark Vassallo (then a rep for ETC), his stories and lessons about selling focused on the customer. From before he formally became part of ETC, and well after he "retired" for the first time, everyone who knew him would tell of a lesson that they had learned from him.
"Sonny's care for his customers was returned to him many times over. There were consultants who would only specify what Sonny sold. This was not because of any underhanded maneuver on Sonny's part; it was because they had proof over the years that he would take care of them if anything went wrong on a job. Sonny didn't buy this loyalty. He earned it. And he taught a lot of us how important it is to take care of customers."
"Famed for his ability to sell, and for such techniques as showing up at a client's office armed with bagels and the latest industry gossip, Sonnenfeld told LSA: "My creed as a salesman, as well as in life, is a simple one: 1. Respect your customers. 2. She/he is probably smarter than you are. 3. Never fake it. Say, 'I don't know, but I will find out and get back to you' -- and do so. 4. Be honest; don't lie. 5. Start early and work late. 6. Make friends with your customers. I have become friends with some spectacularly wonderful people."
From friend and USITT Fellow Bill Sapsis of Sapsis Rigging, Inc: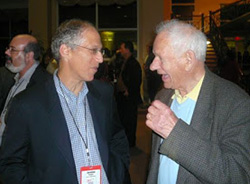 "The indomitable and legendary Sonny Sonnenfeld passed away this morning, in his sleep, in the apartment he shared with Jennifer Tipton. For a little guy he was huge. His influence in the lighting industry is incalculable. He offered his insights, and there were many, into the industry at the Broadway Lighting Master Classes, Super Saturday and NATEAC, to name just a few.
I got to know him in 2012 when I invited him to speak; no. wait. That's not accurate. It was when he invited himself to speak at NATEAC 2012. I didn't argue, of course and he was wonderful on the dais, a cup of Benedictine in his hand. He had planned to reprise that role at NATEAC this coming summer but, sadly, that won't happen."