News & Notices
Member Spotlight: Madilynn Garcia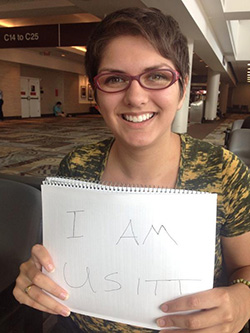 Madilynn Garcia, emerging theatre manager, 2015 graduate of the University of Texas at Austin, alumnus of USITT's Gateway Program, alumnus of Oregon Shakespeare Festival's FAIR (Fellowships, Assistantships, Internships, and Residencies) program, and current USITT Gateway Program Coordinator.
USITT: Tell us a little about how you got to the Gateway Program?
Madilynn: I grew up in Wylie, a small town outside of Dallas, TX, and I went to UT-Austin for my BA in Theatre and Dance. I worked for David Stewart, then Academic Production Manager at UT-Austin, as a production associate for over two years. Shortly after the death of Tayneshia Jefferson in late 2013, he was involved in creating the Gateway program, and one day at work he sat me down and said, 'OK, here's the deal. You're going to the USITT Conference.'
To further the program, USITT was asking institutions to partner to send students to the Conference. Texas Performing Arts at UT-Austin agreed to help, so I became the first Gateway partnership mentee.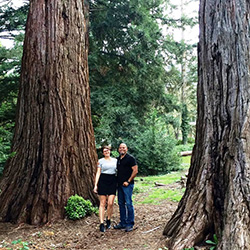 So you attended your first Conference in 2014 as a Gateway mentee.
I was a little nervous. I'm kind of introverted and I wouldn't know anyone else there besides David (Stewart). So I went to this Conference with 5,000 people! We got there early and met other people from the USITT Diversity Initiative, and learned about the development of the Gateway program, which helped me feel less intimidated.
My mentor was Erin Joy Swank, and she was a rock star who has worn many hats over the course of her career. I learned a great deal about USITT and about the community that's there. At the time I was 20 years old and absolutely entranced by everyone I met. People were thrilled about what was happening with Gateway, and they still are. And that embrace is very much felt.
How did Gateway lead you to OSF's FAIR program?
I knew I was interested in working for OSF, and while at the USITT People of Color Network meeting, we were going around the room and Sharifa Johka (FAIR Experience Manager at OSF) introduced herself. Dstew physically pushed me away and said, 'Don't come back till you have her card.' So I approached her and said, 'I want to work at OSF,' and her response was, 'Let's make it happen.' And literally one year later I was packing my bags for Oregon. I'm so excited about the recently announced partnership between Gateway and FAIR. It's a fantastic connection for both organizations and young professionals.
Describe your experience in the FAIR program?
I was excited to do work in the literary office, but also for the FAIR experience. The FAIR cohort met once a week to talk about our experiences and ideas, and to build conversations around equity, diversity, and inclusion.
It was interesting because I was coming to the West Coast as a Latina from a very diverse city, Austin, to a very white place. At OSF, the diversity is happening mostly onstage and the rest of the organization is catching up. So that was overwhelming and even jarring in a way. So the FAIR cohort, which ranged from six to 25 people during my stay, was easily the most diverse group on campus. It was always the most refreshing part of my week.
Both Gateway and FAIR gave me invaluable experience in the field as well as an agent of change. I am a first-generation college student who put myself through school. As someone who was raised by a single mom, I never even thought I would go to college, so it's been very critical to me to know that I can have a place in the world of theatre.
What are you doing now?
I have been working as a production associate and freelancing in Austin while looking for a more long-term place to be. I'm very interested in being part of institutional change in the industry and I'm figuring out what that means as an early career professional. My education has given me a strong background in theatre history and criticism while most of my professional experience has focused on management. At this point, I'm focusing on the latter of those skill sets and looking forward to the next step.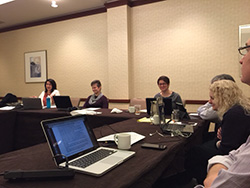 How did you end up becoming USITT's Gateway coordinator?
It all happened so quickly. After the 2014 Conference, David and Kasey Allee-Foreman asked if I wanted to be on the Diversity Committee and my response was, 'Of course!' And that's been phenomenal. I'm surrounded by so many people who are so passionate and committed to changing this field for the better, so I really enjoy serving on the committee. It's a fun group and we know how to hit the ground running. At the conference last year, the group was discussing who would be the coordinator for Gateway in 2016. There was a slow head-turn from the group and I knew it was the perfect opportunity to step up.
I'm also excited to serve as the program coordinator for the next Gateway cohort at USITT 2016. I've navigated the Conference before and I'm a good example of what the membership looks like in 2016. So I'm someone who can make an impact by being there, and by helping further the work of diversity, equity, and inclusion in our field.
Thanks so much! See you in Salt Lake City!