News Releases from
Our Industry Members
Meyer Sound: Systems Support Super Bowl, Earn NAMM TEC Award
The beginning of 2016 has been a busy time for Contributing Member Meyer Sound, which provided sound reinforcement systems for Super Bowl 50 festivities and whose LEOPARD system won a NAMM TEC award.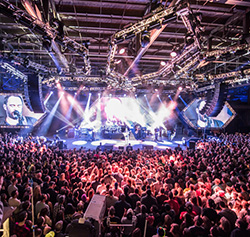 For the biggest Super Bowl week ever celebrated and one that the Super Bowl 50 host committee called "uniquely Bay Area," right in Meyer Sound's back yard, the company's technical team worked with ATK Audiotek of Valencia, CA, to rig SB-1 parabolic long-throw sound beams and SB-3F sound field synthesis loudspeakers at Levi's Stadium, ensuring that the full house in the upper deck could enjoy game day.
ETC: From Robot Chicken to Castle
Whether production is on a small scale, like lighting Robot Chicken, or large scale, like lighting sets for Castle, Contributing Member ETC has just the right equipment.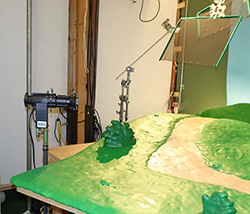 Despite its quirky title, Stoopid Buddy Stoodios in Burbank, CA  is a 21-stage lot that is the largest studio specializing in stop-motion animation in California, best known for the adult animated character Robot Chicken. With each stage the size of a spare bedroom, the studio takes full advantage of ETC's Source Four Mini fixtures. The equipment provides small, focusable and dimmable fixtures providing much sharper optics for a lower wattage, just like the grown-up Source Fours.
Sapsis Rigging: Trains Crew for The Boss's River Tour
When Morpheus Lights, long-term lighting contractor for Bruce Springsteen and the E Street Band, wanted safety training for The River Tour 2016's road crew, they put in a call to Bill Sapsis, president of Contributing Member Sapsis Rigging.
Sapsis flew in to tour rehearsals at the Consol Energy Center in Pittsburgh to conduct fall arrest and rescue training for everyone who works at height–including riggers, follow spot operators, and lighting and video technicians.  
 "We prefer to train on the actual tour rig," explained Paul Weller, of Morpheus "It's a way to ensure that we address the specific fall hazard locations the crew might encounter, and it lets the crew work out clear procedures that can be followed cooperatively among the various departments and vendors."
PRG: Completes Acquisition of DPS, Inc. Assets
Contributing Member Production Resource Group LLC, (PRG) has completed acquiring assets from DigitalSound Production Services, Inc. (DPS). PRG will use these assets to strengthen and expand its inventory across a variety of its locations including its Los Angeles and PRG Paskal Lighting facilities.
After filing for Chapter 11 protection in November, DPS sought court approval to sell its assets. PRG successfully secured the bulk of DPS' lighting and film equipment assets. The purchase of DPS' well maintained, quality equipment will enable PRG to fulfill its ever expanding client demand in the Los Angeles markets.
Chauvet: Stunning Visuals for Mardi Gras
Sustaining Member Chauvet Professionals played an integral part in two Southern traditions.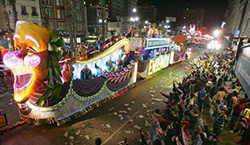 Celebrating 50 years of Mardi Gras celebration with 80 brightly decked out floats, New Orleans's Endymion Parade proceeded through the streets. Leading the way was the Title Float outfitted with 24 MVP 12 LED Video Panels supplied by Chauvet Professionals. This year's theme, "Endymion through the Years," celebrated the rich history of this Mardi Gras tradition.
GLP: X4 Lights Historic Apollo Theater for Soul Legends' Series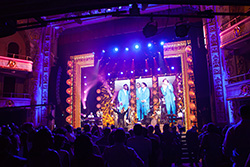 More than 50 impression X4 LED moving heads from Sustaining Member GLP made a recent TV appearance on Legends: OWN at the Apollo, a four-part, prime-time special featuring icons such as Gladys Knight, Smokey Robinson, The Isley Brothers, and Earth, Wind & Fire.
Created and produced by Ron Weisner Entertainment for the Oprah Winfrey Network, the programs transported viewers to the Apollo Theater in Harlem for four nights of classic soul music as well as personal thoughts on how this historic and world famous theater has helped nurture and develop their careers.
Columbus McKinnon: Becomes TSP Visionary
Sustaining Member Columbus McKinnon Corporation became a Visionary level "Investor in Innovation" to support ESTA's Technical Standards Program." By making a five-year pledge of $10,000 per year, Columbus McKinnon is helping to ensure the survival of a program it has long championed.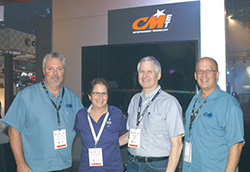 Ken Tilson, Vertical Market Specialist - Entertainment, said, "Columbus McKinnon is excited about the opportunity to support ESTA's TSP, which is vitally important for the entertainment industry. The TSP members are entertainment subject matter experts who develop and create industry specific technical standards and recommended best practices.