News & Notices
Q2Q's Steve to Play Larger Role in USITT 2016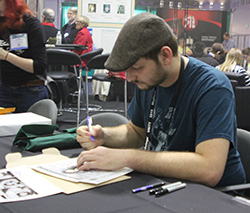 Last year, Steve Younkins came to USITT 2015 in Cincinnati to sign prints of his hugely popular theatre tech comic strip, Q2Q Comics. His event drew hundreds of fans and solidified his idea to make a book.
This year, Steve is coming to USITT 2016 in Salt Lake City to sign the book, which he crowd-funded to the tune of $40,000 and had printed just in time for the show.
"I had to do a rush order to print 100 copies for the Conference, so USITT 2016 will be the first place people can get their hands on the book," he said. "In fact, it likely will be the first time I get to see a full copy of the book!"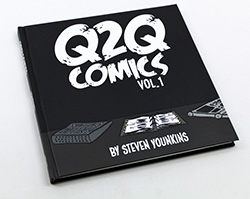 Q2Q Comics Vol. 1, which collects his first 220 strips plus some concept art and commentary, will be sold at the USITT bookstore at the Salt Palace Convention Center-- along with Steve's "Anatomy of" prints of his eight Q2Q characters (Anatomy of a Stage Manager, Sound Designer, Props Master, etc.) and black Q2Q T-shirts with his sayings, "It's Tech Week Somewhere," "Tech Week is Coming" and "Thank You Five."
As he did last year, Steve also will sell original Q2Q strips at his Saturday, March 19, signing event. And on Thursday, March 17, he'll be a featured speaker at USITT's Young Designers & Technicians (YD&T) Awards.
Younkins, resident sound designer for the Maryland Ensemble Theatre, said the past year has been an adventure.
For USITT 2015, he enlisted a props artisan from Seattle who he met through an online theatre tech blog to help him sell comics and sign prints. Liz Hastings, a veteran of several USITT Conferences, became his girlfriend and studio assistant.
At the show, Steve promised to unveil two new characters – a props master named Samantha and a scenic designer named Garvis. Garvis resembles Steve's former roommate, he said. Samantha is partly based on Liz.
"I had the character designed before I met Liz, but Liz has definitely helped me write her, and she's my sounding board," Steve said. "There's a lot of her in the character. However, the red hair is a complete coincidence!"
He and Liz have a lot to celebrate besides their one-year anniversary at USITT 2016. "Having the comic become so popular has allowed me to take the jobs I'm most interested in as a sound designer," he said. "The book is also helping pay for some improvements to my workshop."
He's also excited that USITT Executive Director David Grindle asked him to speak on "risk-taking in design and tech" at the 2016 YD&T Awards.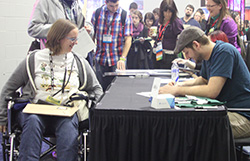 "I'm kind of an out-of-the-box sound designer, so I get asked to do a lot of weird or avant-garde shows, with soundscapes and noise-making. So risk-taking plays right into my design wheelhouse," he said. "And I'm honored to be asked to be there to help celebrate these young designers and technicians."
That's right, he'll be speaking as a sound designer … and a cartoonist.
"I can't not talk about the comic," he said. "And the comic is, in fact, a theatrical thing because it's not just about theatre tech, it's also about my own performance, my own art. Putting my art out there for everyone to look at is a huge risk. Every time I put pen to paper, that's a risk I'm taking, and I've just got to take it."