News & Notices
SoundLab 2016: A Slate of Creative Audio Experiences
USITT 2016 in Salt Lake City will host the third incarnation of the Sound Design & Technology Commission's SoundLab project.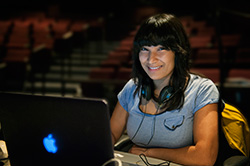 While previous years were more focused on equipment and systems, this year's SoundLab is focused on the process and creative elements of sound design – with help from some sound names like Britain's John Leonard and Off-Broadway's Elisheba Ittoop. From the beginning, the intention was to create an atmosphere that resembled the theatre environment as much as possible.
Inspired by the multi-channel design work of the late Stephen Brown of the Exchange Theatre, the idea behind SoundLab 2016 was born. The intention is to create a multichannel surround system which would be installed in a ballroom in Salt Lake City and would provide the participant with not only the opportunity to experience the design in a theatrical environment, but the ability to walk around that environment and see how the system was put together.
With these goals in mind, New York designer Jim van Bergen was recruited to design a system that was not only flexible enough to serve many purposes, but also used multiple manufacturers in its design. Van Bergen used loudspeakers from Meyer Sound, d&b Audiotechnik, and L-Acoustics to create a system that includes sub-systems for vocal reinforcement, music playback, and surround effects. With some infrastructure help from the folks at Clearwing, an environment in which unique programming could really shine was created. DiGiCo is providing digital consoles for the Lab.
On Tuesday, March 15, the SoundLab will host a Professional Development Workshop in Advanced QLab techniques for surround systems. This will be a great opportunity to learn techniques and solutions for using Qlab in a surround setting. Taught by Sam Kusnetz and Andy Lang from Figure 53, participants can learn these techniques in an actual surround environment.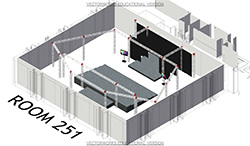 One of the most ambitious projects associated with SoundLab is the Student Design Project. Since September, undergraduate and graduate students have been working on sound designs for the play Fen by Caryl Churchill. These students have been working with mentors from their universities or from within the Sound Commission. These young designers have submitted their designs, and several of them will be selected for installation in the SoundLab. They will install them during the day on Friday. Not only can visitors listen to their designs, they will also be able to observe the installation process.
On Wednesday, SoundLab visitors will have the opportunity to observe professional designers as they complete design challenges. This promises to be entertaining as well as educational as designers such as USITT 2008 Rising Star Award winner Elisheba Ittoop work in the Lab to create designs on the spot.
Wednesday also will afford an opportunity to experience the work of guest international designer Junghoon Pi from South Korea, and to attend David Smith and Ittoop's session on Composition and Creation for the Surround Environment.
On Friday, be sure to attend the session on Location Recording of Sound effects by this year's Distinguished Artist Award Winner in Sound Design & Technology, John Leonard – former head of sound for The Royal Shakespeare Company and curator of one of the world's largest sound effects library.
And of course, Friday evening culminates in the Sound Playback Reception in the SoundLab.
This year's SoundLab promises exciting and unique opportunities for both the beginner and the experienced designer, as well as the opportunity to truly delve into techniques and concepts of design and creation in an environment not available at any other conference.