News From David Grindle, USITT Executive Director
Summer Theatre!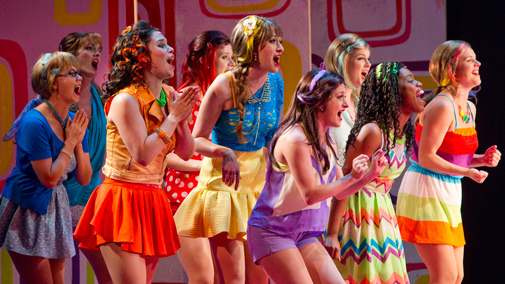 What is it about summer theatre that makes us all smile? Even if we had a bad experience, in hindsight, we look back on it and smile.
There's something about the friendships that we make doing summer shows that make them special. I look at the people that I did opera with in Cincinnati, Aspen, Washington, and Atlanta during those summers, and they are still friends to this day. Those friendships seem to have some type of bond that is slightly different from others.
In a recent visit to St Louis, I got to tour the MUNY. This is one of those summer venues I have heard about but have never gotten to see. It's an "intimate" 11,000 seat amphitheater in Forest Park, the site of the 1904 World's Fair, where shows have been presented since 1919. Talking with the staff there about the challenges of wind, rain, sound reinforcement, airplane fly overs, and parking issues made me so want to do a summer show.
At USITT, we work to provide education and training opportunities to members and the industry. While I think it's the greatest job in the world, there's something about being on a summer stage that calls me back to stage management. My rational side says, "Think of the hours, the challenges, and frustrations." And my artistic side (which may also be my irrational side) says, "Think of the hours, the challenges, and frustrations -- how much fun that would be?"
It doesn't have to be a grand venue like the MUNY. Shakespeare Festival St Louis was gearing up for its season of Henry IV and Henry V on a smaller stage built in the park just for the festival dates. The audience sits on the lawn and enjoys the Bard. That looked equally brilliant to my production-minded self.
Perhaps the roots of our art -- the Greeks in their venues or even tribal elders telling stories by firelight long before "civilization" -- created a primal desire for outdoor theatre.
Whatever it may be, Shakespeare in the park, a concert at an outdoor venue, or opera in a magical setting in the mountains, have a great summer!