News & Notices
Spark! Symposium Set for September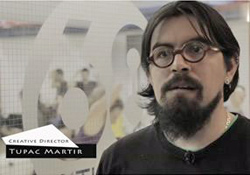 Cirque du Soleil created a 3D hologram for Michael Jackson ONE that seems to bring the King of Pop back to life. Theatre products companies like Philips Entertainment and ETC are developing ways to remotely manipulate lights and rigging from many locations. And then there's Google Glass.
Imagining how technologies like these can be used to enrich entertainment is the mission of Spark!, a USITT symposium set for September 7 to 9 at the University of North Carolina School of the Arts in Winston-Salem, North Carolina.
Design visionary Tupac Martir of London's Satore Studio has signed on to help lead the first Spark! Entertainment Innovation Symposium, which will also feature Cirque du Soleil's holographic expertise and researchers field-testing Google Glass at live arts performances.
USITT invites industry professionals to attend the symposium and aid the discussion. More details here.
"Spark! will bring together some of our industry's leading innovators to explore the latest technologies in automation, in sound, in software," said Executive Director David Grindle. "Then they'll use group collaboration to build ideas and come up with new approaches for incorporating these technologies into entertainment to aid our industry moving forward."
"Exploration sessions will take advantage of UNCSA's plentiful lab space to get people's hands on new equipment – some may be in Beta form and not actually launched yet -- and try new things with it," Mr. Grindle said.
Spark! sessions will be led by innovators, including Mr. Martir, to brainstorm ways to apply the new technologies to problems of the future in entertainment.
Mr. Martir, the visual designer famous for his work with Alexander McQueen, Elton John, and Coachella, is internationally known for erasing labels that separate fields like dance and opera, lighting and costumes, to create multi-disciplinary experiences. See a short film of his show Nierka below.