News & Notices
Submit Designs Now for the Changing Weather of the Prague Quadrennial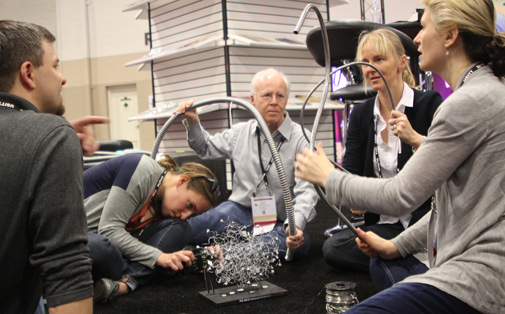 The United States will again enter the Prague Quadrennial of Performance Design & Space with national, student, and architectural exhibitions. The theme of the 2015 PQ is Shared Space: Music, Weather, and Politics 2013-2016. Each country was asked to select one aspect of the theme, and Team USA selected weather.
The deadline to submit designs for the national exhibit is July 14. Submissions may be uploaded in the PQ. link on the International Activities Committee page of the USITT website.
Kevin Rigdon (lighting), Carrie Robbins (costumes), Veronica Vorel (sound), and Tony Walton (scenery) will curate the national exhibit. The team is led by Markéta Fantová, and the national exhibition space is designed by Klara Zieglerova.
The USA student exhibition is curated by Meghan Raham and Tom Burch. The call for that exhibit will go out later with submissions due in October. Details about the student exhibition and architectural entries may also be found in the link above.
Visitors to PQ '15 will encounter multiple changes in the event. Due to shifting political and financial circumstances in Prague, the national exhibitions will be presented in four historic palaces around the Old Town Square. The Student Section exhibitions will be installed in Kafka's house. Click here for more detailed information on exhibition spaces.
Some names of exhibitions and their curatorial processes have changed. The architecture exhibition is now called the space exhibition, and nations will no longer individually curate their architectural/space entries; these entries will be curated by the PQ organizers. Spacelab, an educational project, will host performances, discussions, lectures, presentations, and workshops given by professionals and students. The PQ organizers are interested in workshop submissions that deal with sustainable or unusual materials, media and performance, costume or body design, and subjects that cross at least two disciplines.
For the first time, the work of individuals is being solicited for three experimental exhibitions: Objects, Makers, and Tribes. The Objects exhibition will focus on props and their stories. Makers will explore acts of making food while referencing an existing play or performance, and Tribes will explore performer as artifact in ten-minute public performances around Prague. The PQ will also continue to include live performances. Performers, companies, and troupes are encouraged to submit proposals. Deadlines for individual submissions and performances are October 31. For detailed information about submissions requirements and deadlines, visit www.pq.cz.