News From
Sustaining Members
Alcons Audio: Alcons Offers 'WYMIWYG' Technology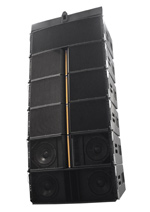 The LR24, a three-way, "larger-format" line-source sound system, was added to Alcons' product offering for a "what you mix is what you get" innovation.
The LR24 is redefining sound reinforcement, as it combines a HiFi-grade sound quality with very high SPL capabilities. Loaded with Alcons' proprietary pro-ribbon technology for mid and high frequencies, the LR24 offers very fast impulse response with full-dynamics, up to 90 percent less distortion under lowest power-compression.
For more information visit www.wymiwyg.info and www.alconsaudio.com.
IATSE: IATSE Crews Shoot Campaign Spot
The Canadian Labour Congress has just released the second round of ads for its "Together, Fairness Works" campaign. The print ads will be featured on buses, subways, and light rail transit across the country, and the TV commercials have just premiered.
The new TV spot was shot under an agreement with the BC Council of Film Unions, using crews from IATSE Local 891 and IATSE Local 669. It is being shown by all major broadcasters on multiple channels and can be viewed online, in English or French, on the CLC's Youtube channel.
Pathway Connectivity: Partnership Advances Lighting Design Skills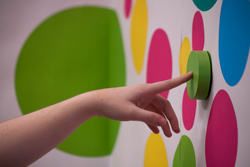 Pathway Connectivity and The Parsons The New School for Design - one of the most prestigious art and design universities in the world – have partnered to provide students an opportunity to build an interactive lighting installation.
Pathway donated the use of a Cognito lighting console and provided technical support. The students created "Spot the Change" to demonstrate human variable perception of object color under white light. It features interactive arcade buttons visitors can press to initiate light changes specifically calibrated to the colors of the immersive environment.
Spot the Change was unveiled at 2014 Light + Building conference in Germany March 30 to April 4.
For more information on the Cognito lighting console, visit www.pathwayconnect.com.
Cobalt Studios: Cobalt Studios Announces Summer Classes
Cobalt Studios will offer two classes this summer – Teacher's Training: High School Productions through Stagecraft and Summer Sign Painting.
Spend the summer in the Catskills learning. High School Productions through Stagecraft will be held June 30 through July 4 with Sean O'Skea. Summer Sign Painting, with Theresa Dringenberg, will run July 14 to 18.
For More Information and to sign up, visit Cobalt Studios or call 845-583-7025. Space is limited.
GLP: GLP's Scenex Lighting Launches Wireless DMX System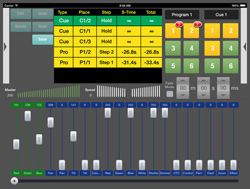 GLP U.S.'s Scenex Lighting brand recently launched AirDMX, a new wireless DMX application that runs from a standard Apple iPad®device.
Running a single DMX universe, the AirDMX uses a standard Wi-Fi connection for data transfer making the system simple to set up, highly affordable, and great for small- to medium-sized applications that need user friendly control.
For more information, visit the Scenex Lighting section of GLP's website at www.germanlightproducts.com.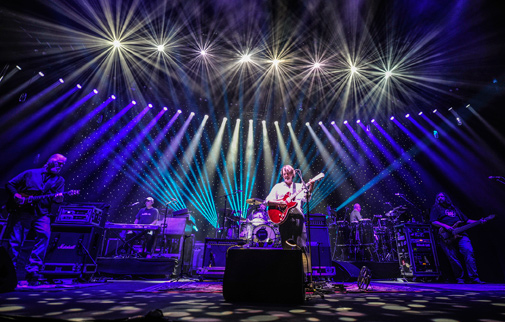 L-ACOUSTICS: L-ACOUSTICS' KARA Works the Las Vegas Strip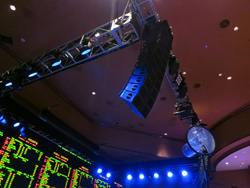 MGM Resorts International techs see it all. When the biggest chain of mega resorts in Las Vegas needed a new system that was versatile and stellar sounding, it turned to L-ACOUSTICS and a system based on the compact KARA line of loudspeakers.
The system--comprising 24 KARA cabinets and eight SB18 subs, all powered by six LA8 amplified controllers housed in a pair of LA-RAK touring racks--has been in service for a few months and is an unqualified hit with both clients and crews.
Stagecraft Institute of Las Vegas & Vectorworks: SILV, Vectorworks Team Up for Summer Sessions
Stagecraft Institute of Las Vegas recently announced that Vectorworks will work with SILV students this summer.
The Digital Drafting session June 9 to 14, Digital Drafting through Visualization July 14 to 18 (which will include ESP Vision for the first time) and Movers and Digital Media July 19 through August 2 will feature Vectorworks support.
For more information, visit stagecraftinstitute.com/classes.