News From
Around the Institute
A New Degree for Aldridge
Immediate Past President Joe Aldridge is always saying that learning is a life-long process. He continues to demonstrate his commitment to that principle and received another bachelor's degree this spring.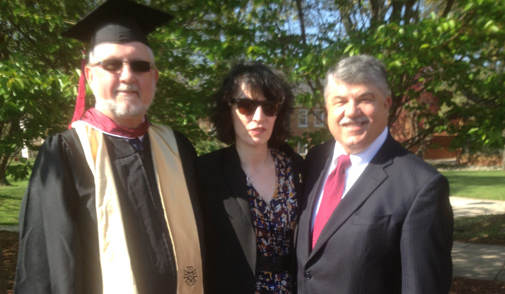 Riders to Cruise through Mid-Atlantic Countryside
It's Long Reach Long Rider time again. The 11th annual LRLR charity motorcycle ride begins in Baltimore on July 12 and, after meandering through the Pennsylvania, West Virginia, and Virginia countryside, returns to Baltimore on July 18. The ride benefits the ESTA Foundation's Behind the Scenes program and Broadway Cares/Equity Fights AIDS.
The riders pay all of their own expenses, so 100 percent of the money donated goes directly to the charity of choice. For information on how to make a donation, visit www.lrlr.org.
Software CTO Lauded for Grant Project Contributions
Catherine Bradley, recipient of one of USITT's 2014 grants, wants readers to be aware of the role that her software partner, Kat Lind, who is the Chief Technical Officer of Dragon and Phoenix Software has had in the project. Ms. Bradley noted "They have been incredible supporters of the Virtual Textile Project, and the present tally is over $1M in technical support and services. (It has grown substantially since the $243,000 contribution that I mentioned at the time of the grant application)."
She continued "Both Kat Lind and her company, Dragon and Phoenix Software have been such amazing supporters of the USITT and the Virtual Textile Project."
The Virtual Textile Project team recently completed a one week textile image capture at the American Textile History Museum, garnering detailed images of approximately 15,000 antique textiles.
Service for Beth LaJoie Planned in Rochester
We note with sadness the death on May 7 of Evelyn Elizabeth (Beth) LaJoie of Nazareth College. Beth was active in the Upstate Regional Section, hosting the Fall 2013 Workshop Day.
A memorial service will be held at 4 p.m. on June 21 in the Callahan Theatre at Nazareth College Arts Center in Rochester.
Beth studied at University of North Carolina in Charlotte and earned her master of fine arts degree from the University of Tennessee in Knoxville. She spent many years in the south and west doing summer stock, dinner theatre, regional theatre, and TYA Equity tours from the East Coast to California.
In addition to her work at Nazareth where she taught lighting design and stage management, she designed for many regional organizations. She also served as lighting designer, technical director, and shop foreman.
Second Entertainment Electronics Training Video Available
The second in a series of three training DVDs presented by ETCP Recognized Trainer Richard Cadena is now available. Entertainment Electrics on DVD Part 2 is a series of 22 video modules with a 10- to 15-minute presentation covering a single topic related to live event production electrics, followed by a short quiz.
Part 2 covers electrical safety and practical aspects of power distribution for the live event industry. There is also an optional 125-page workbook that can be purchased for a small additional cost. The workbook contains all of the illustrations and diagrams shown in the videos.
For more information or to order, visit bit.ly/EEonVid2 or e-mail: info@APTXL.com.