News & Notices
A Dozen Schools Get Rigging Safety Help
USITT's Rigging Safety Initiative has approved a dozen more schools for free stage rigging inspections and safety training through its donor-funded effort to boost stage safety at the high school level.
The latest round of applications cited "loose ropes," "missing locks," "missing spreader plates, missing pins, and possible overload" among concerns of schools seeking help from the program.
The new additions bring the total to 77 schools in 24 states accepted into the Rigging Safety Initiative since it was founded with a $10,000 donation from JR Clancy in 2011.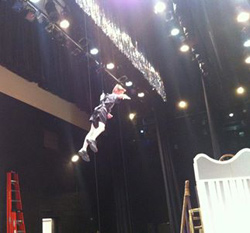 Fallbrook Union High School in Fallbrook, California, applied not just for the inspection, but for safety training, said Chad Costanzo, director of the school's Bob Burton Center for the Performing Arts.
"We need to keep our theater as safe as possible, and in the current school budget crisis, any money to help offset an expense is great," he said. "However, the better part of this is the training on the rigging system."
Besides Fallbrook, the other schools approved for spring 2014 are:
In New York State, Putnam Valley High School in Putnam Valley, Waterloo High School in Waterloo, and Unatego Central School in Otego.
In Massachusetts, North Andover High School in North Andover and Marblehead High School in Marblehead.
In Illinois, Amos Alonzo Stagg High School in Palos Hills and J. Sterling Morton High School in Berwyn.
Countryside High School in Clearwater, Florida; Muskegon High School in Muskegon, Michigan; Annandale High School in Annandale, Minnesota, and Excelsior Springs High School in Excelsior Springs, Missouri.
Kim Florio, drama instructor at Countryside High in Florida, said her school was built in 1978 and its stage rigging gets lots of use.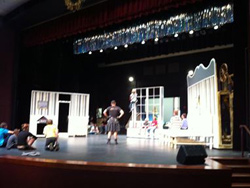 "At Countryside High, we produce shows with no less than 100 students involved. Our motto: Go big or go home! So, having the ability to fly is such a luxury. We have produced Peter Pan with Flying by Foy, and we have flown various drops … The students are very grateful that the system is being inspected with this Rigging Safety Program!"
In addition to founding sponsor Clancy, other corporate sponsors include ETC, H&H Specialties, and Shepard Exposition Services. Many individuals also donate through USITT's Arbor Day campaign.
Supporters of student stage safety can contribute to future inspections and training here.
Mr. Costanzo of Fallbrook Union High said his school is grateful for the aid from concerned USITT members and sponsors.
"Thanks to USITT and the professionals who believe in this program, we will be able to check our safety and be trained so we have another level of safety as well," he said. "Making sure no one gets hurt in a production is a priority."
Approved schools get free ETCP-certified inspections of their stage rigging system and free training for staff and students on safe operation. USITT invites two rounds of applications a year, in spring and fall. Schools only apply once; they remain in the pool until they are funded.
Apply for fall 2014 here. For more information on the program, visit www.usitt.org/rigsafe.