Commissions
Conference Adventures in Costuming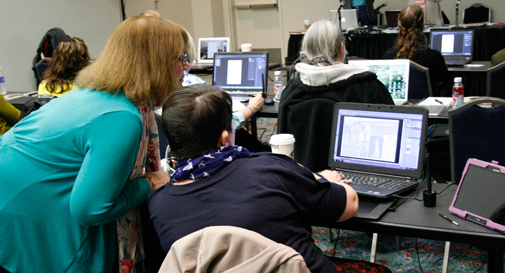 The 54th Annual Conference & Stage Expo Fort Worth was a nice escape from the freezing temperatures elsewhere, allowing many opportunities for those interested in costuming to learn cutting edge techniques.
Professional Development Workshops (PDWs), start things off on March 25, including Sketching with a Tablet: Drawing and Rendering from Your Desk presented by Annie Cleveland, Rafael Jean, and Colleen Muscha, followed by Creating Digital Portfolios presented by Michael Harvey.
The conference officially opened March 26 with a humorous and touching keynote address by Jaston Williams, creator of Greater Tuna. Wednesday afternoon, several sessions covering a variety of topics of interest to members of the Costume Commission -- many created by the Costume Commission and others presented by other Commissions – were held. Elizabeth Lewandowski's session Simplifying Silicone enthralled some costumers while others were transported to the intriguing world of the Indian film industry led by Deepsikha Chatterjee and Cheri Vasek. Managing It All dealt with techniques to efficiently and effectively manage a costume shop from supplying the workroom to managing staff. This session was presented by a panel of both educational and professional costume shop managers.
April Keith and Margaret Messick led attendees through the steps for creating a costume or prop inventory. The final session Wednesday was presented by Dragon and Phoenix Software, Inc. introducing participants to a digital textile database which will carry approximately 4,000 antique and vintage textile samples. The panel shared how to use this database for pre-production work for both costume and scenic design. Evening events included the annual Costume Design & Technology Commission meeting led by Commissioner Donna Meester.
Thursday began with a hands-on hair and make-up session, Getting Wiggy With It. This session allowed participants to visit a variety of learning stations around the room. The stations provided different aspects of creating, styling, and choosing wigs for theatrical productions. The morning also saw an inspirational session sponsored by OISTAT and featuring design work from Brazil, Finland, Bulgaria, and Taiwan.
The afternoon showcased the return of one of the Costume Commission's most popular sessions, the Costume Design & Technology Poster Session, which gave members a chance to share innovative and creative ways to tackle common challenges. This was followed by Cathie McClellan presenting a retrospective on the work of Erte. She asked those attending to choose an Erte design and recreate it in half scale as part of a potential showcase of Erte's work in an upcoming USITT conference. Thursday's costume events ended with an engaging session entitled Turning Thrift Store Finds into Period Costumes. Presenter Gail Brassard shared innovative ways to repurpose a thrift store find.
Friday's session presented educators with a list of skills and knowledge costume technicians need to succeed in the job market. This session was led by Susan Davis, Laurie Kurutz, Jeffery Lieder, and Marcy Linton. Other highlights included the Young Designers & Technicians Forum and the Hands-on Design: Backgrounds, Borders, and Fonts. The hands-on session allowed participants to try a variety of techniques for adding borders, backgrounds, and fonts to costume renderings. Later in the afternoon, Ann Roth, recipient of the Distinguished Achievement Award in Costume Design, shared words of wisdom based on her long and successful career. This was followed by a reception. A session giving an overview of the World Costume Festival 2013 in Vigan, The Philippines, was hosted by Laura Crow and Alexandra Bonds.
Saturday concluded the conference with two very special sessions, the Student Leadership Initiative and Open Your Closets. The Student Leadership Initiative allows a select group of students to share their work and ideas with the Costume Commission. Open Your Closets was a chance for the presenters to share tricks in order to preserve, catalogue, and organize special or vintage pieces most educators have in their costume stocks. This preservation of specialty garments enables them to be used for research, teaching, and exhibitions. The session ended with offerings provided by the Costume Commission.