Conference & Stage Expo
When in Cincinnati...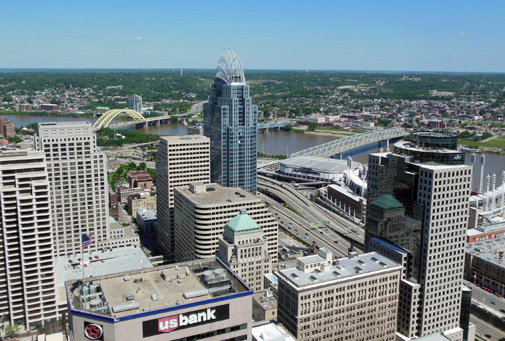 Cincinnati and the entire Ohio Valley Regional Section are excited to host the 2015 USITT Annual Conference & Stage Expo, March 18 to 21, 2015.
Anyone who attended the 2008 Conference will see some of the changes taking place in the area around the Duke Energy Convention Center. The Banks project is near completion with new venues down on the river front. The Street Car project is installing tracks in the downtown area, but probably won't be finished. Check out the area with 14 friends on the Pedal-wagon. (Conference committee members considered this option on a recent visit).
The arts and entertainment scene is as vibrant as ever. D. Lynn Meyers, artistic director at the Ensemble Theatre and featured speaker at the 2008 conference, has a yet-to-be-determined offering scheduled March 18 through April.
The Cincinnati Playhouse in the Park has two productions running in March. Artistic Director Blake Robinson is directing Peter and the Star Catcher March 7 to April 4 in the Marx Theatre. Associate Artist Timothy Douglas is directing Buzzer, March 21 to April 19 in the Thompson Shelter House.
The Cincinnati Ballet is presenting two programs at the Aronoff Center Procter and Gamble Hall: Mozart's Requiem March 20 to 21 and Ballet Toy Box March 22.
Cincinnati Shakespeare Company presents Little Women February 20 to March 21.
Andrew Hungerford, the new artistic director at the Know Theatre, begins his first full season in that role. Stay tuned for the announcement of the 2014-15 season.
Scheduled to open late spring 2015 in East Price Hill is the Incline Theatre, a new 220 seat theatre in a landmark location, by Landmark Productions with Tim Perrino, director. It might be worth a trip to the West Side so see this new development.
The University of Cincinnati College Conservatory of Music will produce Peter Pan March 5 to 8 in the Corbett Auditorium as part of the Musical Theatre Department series. The Opera Department will present Mozart's Cosi Fan Tutte April 9 to 12 in the Patricia Corbett Theatre.