News & Notices
Nominations Open for Distinguished Achievement, Special Awards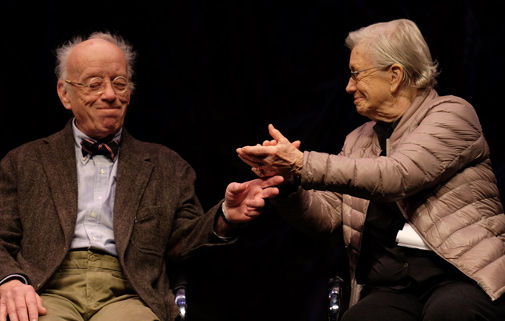 Members have only from June 1 to July 1 to nominate a colleague or stellar achiever for USITT's 2015 Distinguished Achievement Awards and Special Achievement Awards.
Michael Mehler, chair of the Awards & Resolutions Committee, encourages anyone with questions about the process to contact him at mmehler@allegheny.edu.
Distinguished Achievement Awards honor those who have established an admirable body of work or contribution in a specific field of design or technology throughout their career in performing arts or entertainment.
Areas of achievement may include the disciplines, or a combination, represented by USITT's Commissions: Scene Design, Lighting, Sound, Costume Design & Technology, Architecture, Education, Engineering, Management, and Technical Production. The Awards & Resolutions committee usually approves five or six Distinguished Achievers each year.
Those selected by the committee will receive their awards at the 2015 Annual Conference & Stage Expo in Cincinnati, Ohio, March 18 to 21. The winners participate in a special session about their career and in other Conference programming including Distinguished Achievement Award Winners in Conversation.
This year's Distinguished Achievers -- Ann Roth (Costume Design), Eugene Lee (Scene Design), Shirley Prendergast (Lighting Design), Bob McCarthy (Sound), Dana Taylor (Education), and Susan Threadgill (Management) -- were the toast of the Fort Worth 2014 Conference & Stage Expo.
Help nominate next year's slate here.
USITT's Special Achievement Awards include the USITT Award, the Thomas DeGaetani Award, the Joel E. Rubin Founder's Award, the Honorary Lifetime Member Award, and Special Citations. These aren't necessarily awarded annually.
The USITT Award, the Institute's highest honor, was presented this year to James R. Bakkom, producing director, artist, props master, and educator. The award recognizes a lifetime of distinguished contribution to the performing arts or entertainment communities.
The DeGaetani Award went to Fort Worth Opera General Director Darren K. Woods this year. It is named for USITT's first president and honors an important contributor to the arts in the area of that year's Conference & Stage Expo.
The Joel E. Rubin Founder's Award, named for USITT's co-founder and second president, recognizes outstanding continued service to the Institute.
Mitch Hefter was added to the group of Honorary Lifetime Member Award winners in 2014. The award bestows free membership to individuals who have contributed much of their lives to USITT.
Special Citations recognize any individual or organization for outstanding achievement in any area of the performing arts. Past recipients include Cobalt Studios, Tharon Musser, and the Utah Shakespeare Festival.