News From Lea Asbell-Swanger, USITT President
Shaping the Future, Strategically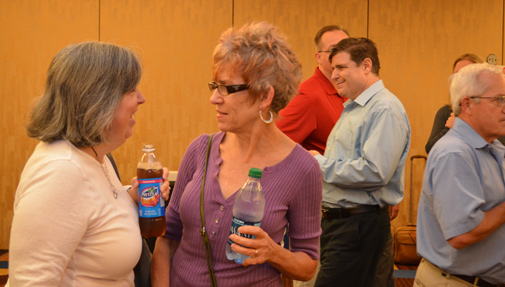 As I promised last month, I have updates on the USITT strategic planning process and other interest items from the August board of directors' retreat and meetings in San Francisco.
On Friday, August 16, the board was joined by the non-board members of the Strategic Initiative Task Force. This group was charged to take the 7 strategic initiatives from the approved strategic plan and develop actionable steps and recommendations based on the key goals of 1) Membership Development, 2) Products and Services Management, and 3) Brand Awareness and Management. The members of this group are Carl Lefko, chair, Lea Asbell-Swanger, Sherry Wagner-Henry, Dan Culhane, Tim Kaufman, Kevin Rigdon, Mark Shanda, Kasey Allee-Foreman, Michael Mehler, Andi Lyons, Jeff Flowers, Shawn "Pinky" Estell, Michael McMackin, Kara Loree, Kimb Williamson, Jean Montgomery, and Bill Browning.
The task force and the rest of the board divided up into seven discussion groups, one for each strategic initiative, and spent the morning assessing current activities, programs, and tasks with respect to the initiatives and the afternoon was used to brainstorm enhancements to what exists as well as new possibilities to help achieve the key goals.
It should be no surprise that there was spirited conversation within each group and by the end of the day there were copious notes that will all be compiled by Leslie Marqua, our consultant from Hathor Associates. Leslie will continue working with each discussion group throughout September and October with a comprehensive report due back to the board for the November electronic meeting.
We completed the day by visiting Meyer Sound, who was concurrently hosting a USITT Presents event. Many thanks to the folks at Meyer Sound for inviting us to visit as well as providing education and training for our members.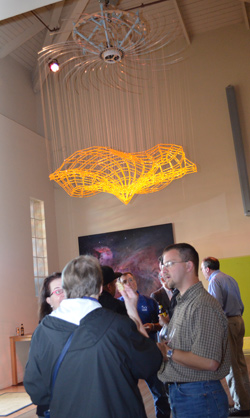 The August board meeting is the first for the new class of directors, so Saturday morning started with some board orientation and training for all. Thanks to Secretary Sherry Wagner-Henry for developing the components and process to make us all more efficient and effective board members and to Treasurer Dan Culhane for assisting, particularly in the final details of understanding our financial reports. The time spent was a benefit to all and many aspects were put into active practice during the afternoon board meeting.
I have mentioned before how lucky we are to have a dedicated professional staff and the board had the opportunity to honor three members of that group on Saturday. Carol Carrigan, Barbara E.R. Lucas, and Monica Merritt have been "behind the scenes" on behalf of the USITT membership in Syracuse for 15 years! During that time, each one has contributed to the success of the organization in countless ways and I'm sure they each have stories that they could tell… Thank you, ladies for your patience, support, good humor, and continued service to USITT.
It is always uplifting to gather with colleagues and friends at any USITT occasion, but this particular weekend was, for some, particularly poignant. One member of the 2013 class of directors was Tayneshia Jefferson, who we remember more completely in another article within this edition of Sightlines. As we all spent time together, it was comforting to know that the people she touched carry part of her with them, so she and so many others are always with us. So in Tayneshia's honor, but also in memory of others no longer physically with us, I leave you with the following quote by William Penn:
Death is but crossing the world, as friends do the seas; they live in one another still. For they must needs be present, that love and live in that which is omnipresent. In this divine glass, they see face to face; and their converse is free, as well as pure. This is the comfort of friends, that they may be said to die, yet their friendship and society are, in the best sense, ever present, because immortal.