News & Notices
Troscher Joins Institute as Education Coordinator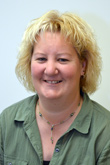 Christine Troscher has been an event organizer, theatre manager, lighting designer, sound technician, stagehand, and actor since graduating college with a bachelor's degree in theatre in 1990. Now, she expects to apply that diverse experience to her new position as USITT education and training coordinator.
"In the past 25 years, I've been involved in every facet of theatre and never knew where it would take me," she said. "I feel like, with this job, the culmination of all those years has finally paid off."
Christine's new role will help the Institute continue its mission to increase training and education opportunities for members. Among other duties, she will oversee USITT Presents, a series of one- and two-day workshops where industry leaders demonstrate products, and Elite Training, a three-day training in automation, rigging, sound, or projection for 32 people at the Cirque du Soleil Training Center in Las Vegas.
Adding the coordinator position will allow USITT to offer more training and educational events at low cost to members, making USITT membership an even better investment, said USITT Executive Director David Grindle.
"As USITT intensifies its focus on education and training, with programs like USITT Presents and Elite Training, we need the support of a dedicated person for whom this is a full-time focus," Mr. Grindle said. "As we grow our opportunities, we need to grow our support to meet the standards that our members have come to expect and that we want the world to know is part of the culture of USITT."
After graduating from the State University of New York at Cortland, she worked as a stagehand at San Diego's LaJolla Playhouse – where she met Neil Patrick Harris -- and on and off Broadway. (She started as an electrician on The Rocky Horror Show!) She still belongs to IATSE Local 122 in San Diego.
Between those jobs, she returned to SUNY-Cortland to do lighting and sound design on several shows, and in 2004 got a job in stage operations at the Civic Center Theatre in Syracuse. In 2009, she was promoted to theatre manager. Before being recruited by USITT, she was technical manager at the SRC Arena and Event Center in Syracuse.
She owns a house in Cortland, where she "gardens like mad" and has two cats -- Boo Boo and Snoopy. She is an outdoor enthusiast who loves camping, hiking, and kayaking. Now that she has found her dream job, she says, her next goal is a stint on Survivor.