News From
Contributing Members
City Theatrical Inc.: Upgrade SHoW Baby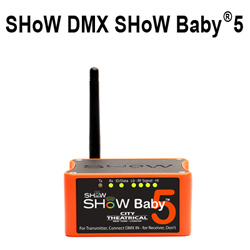 City Theatrical's SHoW Baby now has five SHoW IDs, allowing systems to be scaled up to multi universe broadcasts by adding additional transmitters, or as a way of avoiding interference from other SHoW Babies in the area.
SHoW Baby 5 is still plug and play. When plugging a DMX line from a lighting controller, the SHoW Baby transceiver automatically becomes a transmitter. Without a DMX line plugged in, it is a receiver.
ETC: CUE Event a Success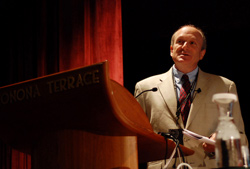 One hundred fifty end users from around the globe convened in Madison, Wisconsin July 22 to 25 to "Create, Understand and Experience" at ETC's CUE 2013 event.
The event began with a full day of training on Eos- and Congo-family consoles, followed by three days of hands-on classes led by ETC employees and other rigging and lighting experts. The classes covered 75 different topics including busking live shows, working with media servers, the theatre-renovation process, the evolution of stage-machinery safety standards, and proper ETC equipment maintenance.
The keynote addresses delivered by ETC CEO Fred Foster and Tony Award-winning Broadway lighting designer Donald Holder were highlights of the event.
Special events included a Congo-themed party, a welcome reception, and a barbecue at ETC's headquarters.
ETC has a collection of CUE videos. To learn more about ETC and to find information on regional training events, visit www.etcconnect.com.
Meyer Sound Laboratories, Inc.: Sound System Aids Arts & Lectures Series Relocation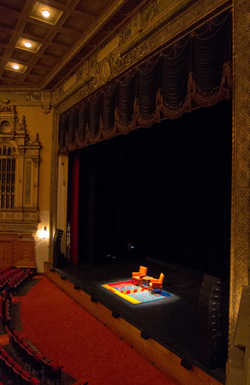 After 32 years at the Herbst Theatre, San Francisco's City Arts & Lectures has moved its presentations two blocks away to the Nourse Theatre. Through a Meyer Sound MINA line array loudspeaker system, audiences of up to 1,680 are drawn into intimate, thought-provoking conversations with leaders of thought and culture. They include luminaries such as former Vice President Al Gore, Facebook COO Sheryl Sandberg, and best-selling authors Michael Lewis and Joyce Carol Oates.
Limited resources were available for acoustical treatment when City Arts & Lectures relocated to the Nourse Theatre, a 1920s high school hall that later fell into use as a storage facility. In addition to the 16 MINA loudspeakers, the Nourse installation also comprises seven UP-4XP 48 V loudspeakers as front fill, four 500-HP subwoofers, and a Galileo loudspeaker management system with two Galileo 616 processors.
More information is available at 510-486-1166; fax 510-486-8356, e-mail winnie@meyersound.com, or www.meyersound.com.
Stage Technologies & PRG: Company Acquired, Aids King Kong Automation
TAIT recently acquired Stage Technologies and Delstar Engineering. Stage Technologies was also involved, with PRG, in automation for King Kong.
The acquisition sees the merger of market leaders in automation, staging, and engineering for the live entertainment industry. Both companies are well established in the field of automation with TAIT focusing on the touring market and Stage Technologies on permanent installations for opera houses, theatres, and other permanent large-scale installations; alongside automation rental for London's West End and beyond.
Five years in the making, the King Kong musical, produced by Australia's Global Creatures, has opened to thrilled and awed audiences at Melbourne, Australia's Regent Theatre. The star of the show is the six meter, one ton King Kong puppet, designed by Global Creature Technology. Contracted by PRG, Stage Technologies teams in the United Kingdom, the United States, and Australia worked closely with Global Creature Technology to supply the ground-breaking automation system which controls the ape.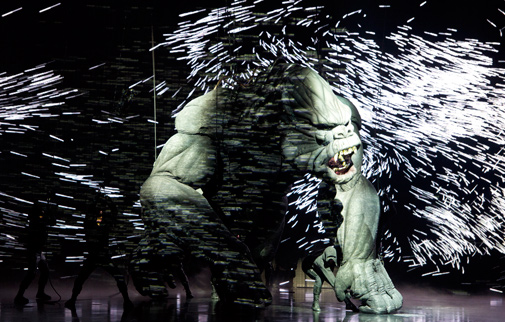 Rosco Laboratories, Inc.: Schwartz Leaves Rosco
Industry veteran Stan Schwartz has announced he is stepping down from his position as executive vice president of Rosco Laboratories, Inc.
Mr. Schwartz had been associated with Rosco for 35 years and has been involved with introducing many of the company's products.
"For most of those three decades, my charge was to market not just the familiar Rosco products like gels, gobos, fog machines, and dance floors but the raft of new products we produced each year," Mr. Schwartz said. "We'd never have been as successful as we have in both familiar and new products without the help of an engaged and often enthusiastic community of dealers."
He started his career writing print ads for an ad agency. He has seen the change of marketing techniques to include social media like Facebook, YouTube and Twitter. Throughout his career, the focus has always been on the customer.