News & Notices
In Memoriam: Tayneshia Jefferson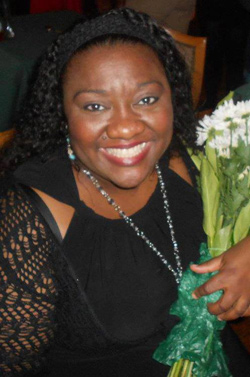 Tayneshia Jefferson, an accomplished stage manager and newly elected member of the USITT Board of Directors, died suddenly of a brain aneurysm on July 31 in her native Houston, Texas. She was 41.
Tayneshia, known to friends as "Tay" or "T," had 20 years' experience in production management for such companies as Austin's Zachary Scott Theatre Center, Utah Festival Opera, Houston Ebony Opera Guild, and Grammy-nominated chamber chorus Conspirare.
A graduate of the University of Texas Department of Theatre and Dance and the University of Delaware's Professional Theatre Training Program, she became a generous mentor and teacher. Struck by a lack of fellow people of color in her field, she began volunteering for USITT's Stage Management Mentoring Project in 2005. She vowed to recruit more young people of color into the world of theatre design and technology "one kid at a time."
In 2010, she was hired as stage management lecturer and production manager at Indiana University's Department of Theatre and Drama. A year ago, Carnegie Mellon University School of Drama lured her to Pittsburgh with an assistant professorship in stage management.
At the time of her death, she was USITT Vice-Commissioner for Stage Management and chair of its People of Color Caucus. She was known for a raucous sense of humor, great big hugs, and a blunt, no-nonsense approach to stage management, teaching, and life.
In responding to CMU's four-question interview for new faculty, she confessed a love for tiaras and grape Slushies.

Last year, she and her friend David S. Stewart co-authored a Stage Directions feature, "Diversity in the Booth," with a "How-to Guide" for white folks with few black friends.
"I have, on occasion, found myself seeking out the company of other black people just so that I can have the experience of my mere presence not being such a remarkable thing," she wrote.
But those who experienced her sparkly personality seem to agree: her presence was remarkable.
A service was held August 10 in Houston, Texas. She is survived by her mother and step-father, Nan and Gerald Arceneaux and her father and step-mother, Gerald and Janell Rideaux, all of Texas.
Donations in memory of Ms. Jefferson may be made to USITT. They will be held until her family directs how those donations will be used to support the organization she loved.