The Last Word:
What I Did On My Summer Vacation
USITT Makeup Design Award Winner Discusses Berlin Trip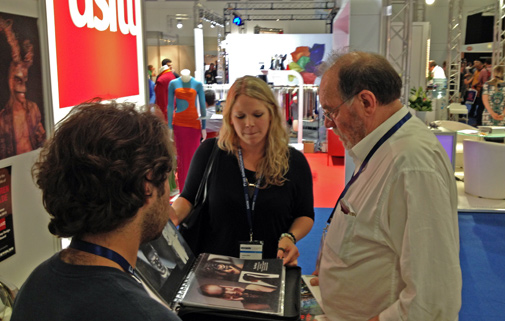 When David Grindle announced that I had been chosen to showcase my work at DTHG Showtech 2013 in Berlin, I was overcome with excitement and shock. Here I was, an almost-graduate from the Wig and Make-up Design MFA program at the University of North Carolina School of the Arts, and I was being asked to represent USITT and the United States in an international setting! This wasn't exactly something they taught in school.
Mr. Grindle, as well as USITT President Lea Asbell-Swanger, encouraged me by saying there was nothing to worry about, this was the first time they were taking a young designer from USITT with them and they weren't quite sure what to expect, but it should be a good time for everyone.
In my excitement, I tried to make a quick joke about how I was like a lab rat, which unfortunately came out of my mouth as "Oh, I'm like a rab lat!" I was confident that, after my incoherent remark, they would reconsider their decision to take me. But, lo and behold, a few months later I was on a plane to Berlin.
After a jetlagged night's rest in the gorgeous German capital, I was off to experience the conference. Within seconds of walking into the building, I was transported to a circus of theatrical wizardry. All around me were booths with flashing lights, smoke machines, 3D projection systems and more, as well as some impressive food and drink samples that helped draw me in to learn more. Unbeknownst to me, the conference paid particular attention to the field I am entering – make-up artists in the film industry.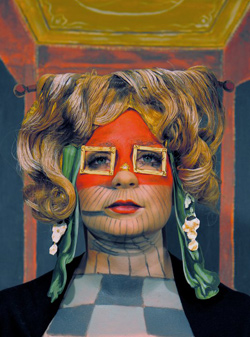 Suddenly I found myself standing mere feet away from some of the most respected artists in the industry: Barney Nikolic, Kuno Schlegelmilch, Manlio Rocchetti – make-up artists who had worked on such films as Harry Potter, Cloud Atlas, Shutter Island and Driving Ms. Daisy. Not only that, but after each artist gave his or her talk, I was able to pull them aside to meet them and have them look over my work. The advice and wisdom they gave me was priceless -- general tips on where to live and who to contact (I've already connected with several Los Angeles artists as a result), as well as detailed advice like how to best blend the edges of a bald cap and how to ventilate specific hairs on a wig to make a part look perfect.
The most surreal moment of the conference was when I found myself drinking coffee with several of these make-up artists as the conference came to a close. It was among these artists, all speaking their respective languages and having their coffee and cookies, that I realized, in their eyes, I was not a student but a peer and an artist. Beyond the advice and the experience of the conference, this realization was the greatest gift I could have ever received.
I cannot thank USITT enough for affording me the privilege of attending this convention. I learned an incredible amount about the world of theatre and film, my industry, and most importantly myself. I left Berlin with a renewed sense of confidence and drive to push forward in an industry I am proud to call my own.
While I have no doubt I'm still a long way from becoming the artist I one day wish to be, this trip has provided me with the necessary confidence and clarity to take the next step forward and see what happens.
So here I go, a rab lat about to embark on her next adventure...
Thank you David, Lea, and USITT!
Lauren Wilde was the 2013 recipient of the USITT Make-up Design Award sponsored by Kryolan Professional Make-up.