Conference & Stage Expo
Head East for a Day!
The Dallas Arts District, sitting on 68 acres of prime downtown real estate, is home to Dallas' most significant cultural landmarks. The District was over 25 years in planning and includes:
Morton H. Meyerson Symphony Center
Dallas City Performance Hall
Booker T. Washington High School for the Performing and Visual Arts
Dallas Black Dance Theatre
AT&T Performing Arts Center which includes:

Margot and Bill Winspear Opera House
Dee and Charles Wyly Theatre
Annette Strauss Artist Square
Elaine D. and Charles A. Sammons Park

Klyde Warren Park
Dallas Museum of Art
Nasher Sculpture Center
Trammell Crow Center
Perot Museum of Nature and Science
Belo Mansion
Saint Paul United Methodist Church
Cathedral Shrine of the Virgin of Guadalupe
One Arts Plaza
The USITT Fort Worth local committee and the Architectural Commission will be offering a Professional Development Workshop on March 25 to tour four of the performing arts facilities in the Dallas Arts District. Plan to arrive at the conference early for this exciting and exhaustive tour. Transportation will be provided from Fort Worth.
Morton H. Meyerson Symphony Center, home to Dallas Symphony Orchestra, Dallas Symphony Chorus and Dallas Wind Symphony, is considered one of the world's greatest orchestra halls. Features for tuning the acoustic environment include reverberation chambers that effectively double the visible performance room volume, 74 concrete doors weighing 2 ½ tons each used for closing down the reverberation chambers, 56 motorized absorption curtains, and a 42 ton adjustable acoustic canopy over the performance platform. On the upstage wall of the performance platform is a C.B. Fisk Opus 100 tracker organ boasting 4,535 pipes.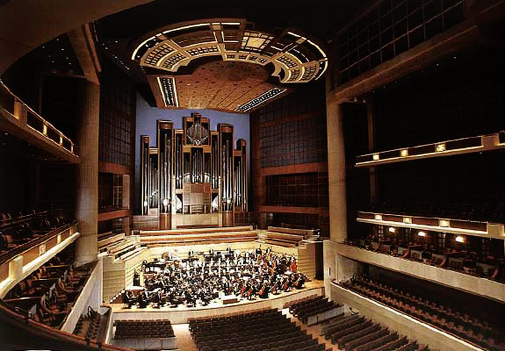 Margot and Bill Winspear Opera House, home to Dallas Opera, Texas Ballet Theatre and Lexus Broadway Series, is designed in a traditional horseshoe audience seating form with a crucifix form backstage. The audience chamber boasts a chandelier made of 318 individual LED rods. The chandelier can be programmed to vertically move to different positions and change colors creating exciting forms and shapes. During past holiday seasons, the chandelier has taken the form of a Christmas tree of green, hanging 50 feet below the performance hall ceiling and having multi-colored ornaments. The lobby includes an 84 foot glass wall that can be raised to for a direct connection to the adjacent park. The building is surrounded by a three acre solar canopy providing shade from direct sunlight most of the year enhancing outdoor performance experiences.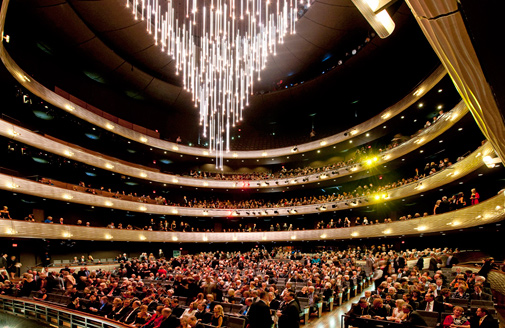 Dallas City Performance Hall was designed to serve over 60 small- to mid-size arts groups in the City of Dallas. Phase 1 includes a 750-seat proscenium theatre used primarily for acoustic and popular music, musical theatre and dramatic productions. The audience chamber features 13 motorized acoustic banners, two of the banners being the tallest in North America. The building and equipment are designed for cost effective operation and ease of operation for the many small arts using the signature hall as their Arts District home. Look for the iconic roof shapes of Phase 2, which will include two flexible theatres, an art gallery, a café, and rehearsal and classroom space, represented in the landscape around the building.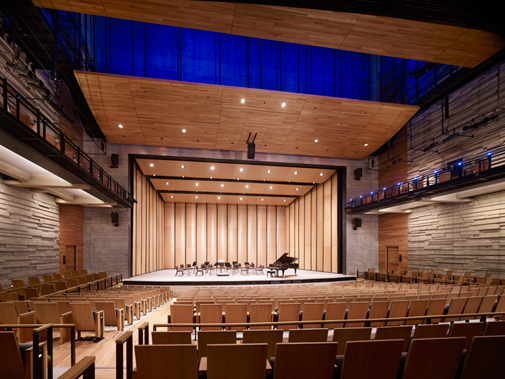 Dee and Charles Wyly Theatre, home to Dallas Theater Center, Dallas Black Dance Theatre and Anita N. Martinez Ballet Folklorico, stands 12 stories tall at 80,000 square feet. The performance space is totally flexible with movable seating, platforming, lifts and flying balconies. The building houses most of the support services for Dallas Theater Center operations. Because of its flexible design, the performance room can be arranged in a multitude of configurations to enhance the creativity of the productions, including completely flying the balconies out of the room. The room's flexibility also makes it ideal for private-party events.