News From
Sustaining Members
InLight Gobos: New Sustaining Member
We welcome InLight Gobos as a new Sustaining Member. The company, based in Dallas, Texas, will be exhibiting at Stage Expo in 2014. InLight manufactures glass gobos and is the first United States supplier to offer DigiGobos, which can be used in most video projection systems. The company offers gobos from its catalog or can create custom gobos in a wide range of sizes. Visit them before the show at www.inlightgobos.com.
GLP German Light Products: New App for Fixture
GLP German Light Products has launched a new iPad app for its impression X4 fixture.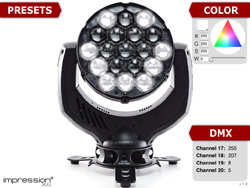 One of the versatile features of the impression X4 is that users can create their own pixel designs on the fly and store them directly into their control console. The new iPad app makes the process fast and easy by bringing up a mimic of the fixtures' front lens layout. Users can tap individual lenses on and off to design the output they would like. Simultaneously the app displays the corresponding DMX channels and values to be input to the controller for the physical fixture.
The app is free to download from the Apple Store, and will soon be released for the iPhone and Android platforms.
RC4 Wireless/Soundsculpture Inc.: Announce Dimming Innovations
RC4 Wirelesss/Soundsculpture Inc. recently introduced the latest innovations to the RC4Magic Series 2 family of wireless DMX and dimming devices.
The DMX2flkr and DMX4flkr produce flicker and flame effects. The RC4 Flkr Effects Engine can define unique, personalized looks, not prepackaged or canned effects.
For more information, visit www.theatrewireless.com.
L-ACOUSTICS: Festival Includes K1 Sound Systems
Over the past five years, the Free Press Summer Festival (FPSF), staged at Eleanor Tinsley Park just west of downtown Houston, Texas has quickly grown into one of the state's most eagerly anticipated music festivals. This year marked the first time the event completely sold out in advance, ultimately drawing nearly 100,000.
Houston's LD Systems again served as the primary audio, video, and lighting provider for FPSF and supplied production gear and services for the festival's four primary stages. This year, however, the company chose to deploy L-ACOUSTICS K1 systems on the two largest stages, Mars and Saturn.
For more details on this year's Free Press Summer Festival, visit www.fpsf.com. LD Systems can also be found online at www.ldsystems.com.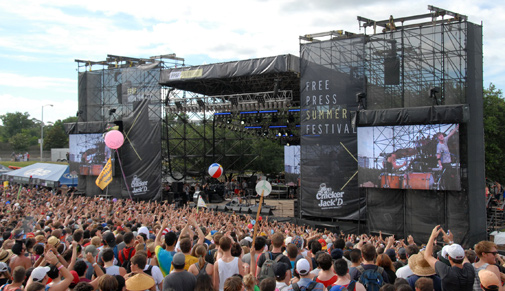 Stagecraft Institute of Las Vegas: Completes Summer Session
The Stagecraft Institute of Las Vegas recently completed Summer 2013 with Movers & Digital Media featuring Brian Gale.
Remaining students saw Cirque du Soleil: Mystère with a talkback with the lighting designer, Luc Lafortune. The Technicians' Showcase showed off students' hard work from the previousweeks. the Seal of Qualification exam was held for the first time and seven students were successful. They are Jeff Beyer, Matt DeJong, David Krasner, Josh Muir, Derik Radcliffe, Alex Reed, and Uzma Sabeen. A Job Fair hosted at Solotech gave students the opportunity to meet numerous professionals representing awealth of experiences.
Alcons Audio: New Audio System Installed at Russian Theatre
As one of Russia's most famous theatres, the Central Academic Theatre of the Russian Army (CATRA) needs to keep its technical specification up-to-date to satisfy the higher expectations of audiences. An Alcons Audio system was installed in a recent upgrade. The system replaces one installed in the 1990s.
For more information visit www.alconsaudio.com.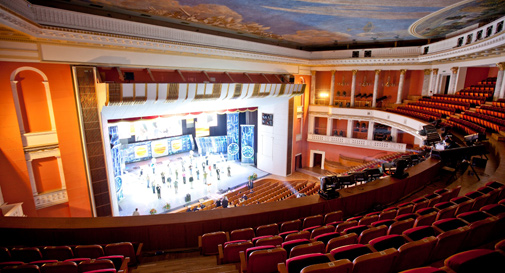 TMB: LumenRadio Wireless Control Smokes Vasco Rossi Stadium Tour
Italian fans enjoyed a spectacular display of lights, lasers, and effects at rock legend Vasco Rossi's sold-out stadium tour this year. For maximum visual impact, LumenRadio wireless transmitters and receivers, distributed exclusively by TMB, were used.
For more information about LumenRadio visit www.tmb.com/products/lumenradio. Learn about other innovative products from TMB at www.tmb.com.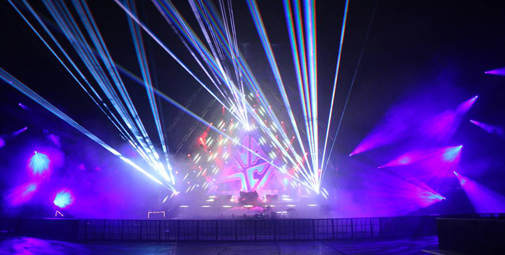 Nemetschek Vectorworks: Prize-Leading Firms Use Architeture Software
The Royal Institute of British Architects (RIBA) recently announced its shortlist for the prestigious Stirling Prize, and four of the six nominees were designed by architecture firms that use Nemetschek Vectorworks Architect software.
The projects on the shortlist designed by firms using Vectorworks include:
Newhall Be, Essex, designed by Alison Brooks Architects
The University of Limerick, designed by Grafton Architects
Park Hill, Sheffield, designed by Hawkins\Brown with Studio Egret West
Bishop Edward King Chapel, designed by Niall McLaughlin Architects
The winner will be announced on September 26 during an event at The Central Saint Martins College of Arts and Design at King's Cross in London.
For more information on Nemetschek Vectorworks, visit www.vectorworks.net.