The Last Word:
Puppet Boot Camp a Blast!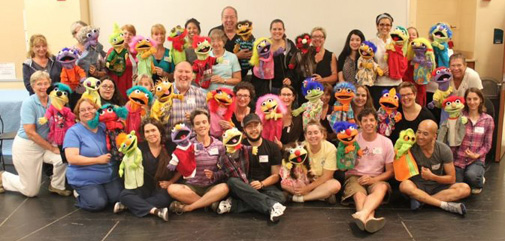 Puppetry is one of the most exciting and evocative of the performing arts. For three days in early August, 36 brave and adventurous "puppet people" congregated near the Crossroads of America to experience the story-telling power of the anthropomorphic objects called puppets.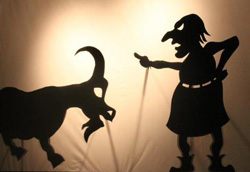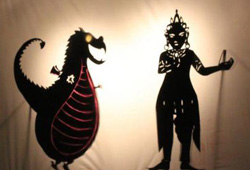 Joel Ebarb, symposium instructor and organizer, put the participants through their paces by teaching the skills necessary to construct and perform four different types of puppets: scarf marionettes (a training puppet created by the great Albrecht Roser), "Muppet" style open-mouth puppets in the style of the great puppeteer Jim Henson, "mystical and magical" shadow puppets, and Chinese-style rod puppets created from recycled plastic juice containers. He was assisted by Kathryn Wagner and Rachel Lambert.
The pace was fast and furious. Participants cut, pasted, patterned, glued, stitched, and decorated at breakneck speed. When all was said and done, everyone was astounded that they had learned and created as much as they had. Said one participant, "I thought there is no way we will ever get all of this done – but we did, and it was an amazing experience!"
One of the highlights of the symposium was the section devoted to shadow puppets, which culminate in mini-theatricals of one minute or less involving at least two characters. Puppets included zombies, dancing hippos, an undersea encounter between a mermaid and a diver, and an appearance by the singer formerly known as Prince.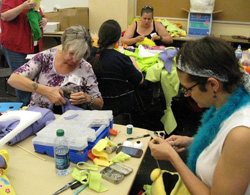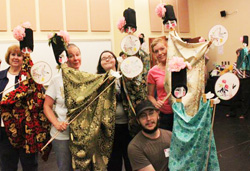 However, the three days were not all work. The Costume Symposium was held on the campus of Purdue University in West Lafayette, Indiana, one hour away from the capital city of Indianapolis. The group traveled there for a cultural mini-vacation, visiting the beautiful Indianapolis Museum of Art with its exceptional gardens.
The group enjoyed a special tour of a textiles exhibit highlighting the designs of American designers with Indiana roots such as Halston, Blass, Norell, and Sprouse. Symposium participants also enjoyed discovering the restaurants and specialty stores around Purdue, in particular Von's Shoppes, home to millions of beads, books, and bibelots.
The workshop concluded with a final group exercise where all participants and their Muppet-style puppets performed an energetic and highly entertaining group lip-sync to Journey's "Don't Stop Believing" as performed by the actors from the popular television program Glee. To quote one participant, "I could do this all day! This was the most fun I have had in years!"