News & Notices
Center to Honor Oscar Brockett
The University of Texas at Austin Department of Theatre and Dance is launching the Oscar G. Brockett Center of Theatre History and Criticism. The Brockett Center will serve as an international leader in promoting excellence in theatre history scholarship.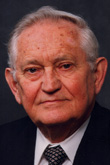 Dr. Brockett's scholarship professionalized the academic study of theatre, and it is the center's goal to encourage the next generation of theatre historians by:
Promoting archival historical research, educational programs in theatre history, and engaged discussion of theatre pedagogy;
Commissioning essays by senior scholars around the world to discuss issues relating to theatre history and historiography;
Developing a connection with the American Theatre Archival Project to train artists in theaters nation-wide to archive materials for future generations;
Hosting symposiums on topics in theatre history and bring esteemed scholars to campus through a guest speakers series; and
Awarding an annual prize in Dr. Brockett's name, in partnership with ASTR, to the best published essay written in the field of theatre history.
The Brockett Center's mission is to support undergraduate and graduate students studying theatre history. The Center will encourage excellence in the teaching of theatre history through an online syllabus bank and active discussion of pedagogy.
To ensure that archival material is widely accessible, the Brockett Center website will host extensive historical documents, performance criticism, and podcasts.
Finally, the Brockett Center will be a place where live theatre is studied and celebrated. The Center will forge relationships with professional artists in Austin and around the world. Faculty affiliated with the Brockett Center will give presentations and workshops on topics in theatre history and dramaturgy to enrich the theatre-going experience and encourage community-wide discussion.
Oscar Brockett was a world-class scholar, teacher, and community-member. It is in his spirit that the Brockett Center will provide leadership in theatre scholarship, pedagogy, and community engagement.