News & Notices
A Tech Expo Challenge
Here's a challenge to all USITT members: make this the biggest Tech Expo ever!
What does that mean? It is simple. Take a little time to look over the past production challenges and triumphs; if there is a unique or innovative solution, share them with the rest of the membership.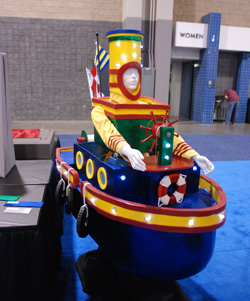 Nothing would be better than to have an overload of entries to go through and select for the 2013 Tech Expo Catalog and Exhibit.
Those who haven't entered before shouldn't be shy about entering! Take a look at the Submission Instructions and Exhibit Application. Here is valuable information regarding both the required article and exhibit. If selected, a graphics and text editor will be assigned to the entry who will help prepare it for the Tech Expo Catalog. Those chosen will be asked to create a display to show off the entry at the Stage Expo in Milwaukee.
Remember, this is a juried event and that selection for the Tech Expo can be instrumental in securing funding for attendance to the annual conference as well as be support material for things like promotion and tenure. For those in academic theatre it is also a great way for students to work on their writing and presentation skills. It also doesn't hurt those students when it comes to portfolio materials when seeking employment or grad school admission.
The submission deadline is Friday, November 2. For more information, contact Rob Kerby at kerbyr@nku.edu. Don't delay! In no time at all, November will be here.