News From Lea Asbell-Swanger, USITT President
Happy Labor Day!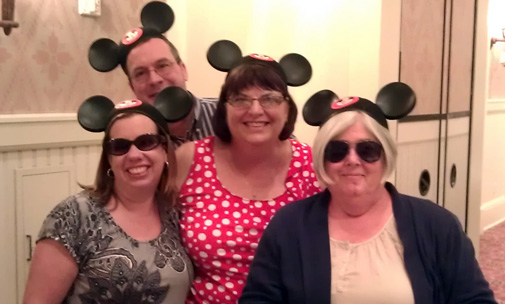 The Department of Labor website describes the holiday:
Labor Day, the first Monday in September, is a creation of the labor movement and is dedicated to the social and economic achievements of American workers. It constitutes a yearly national tribute to the contributions workers have made to the strength, prosperity, and well-being of our country.
My favorite part, though, is the website's discussion of how the observance began. As is often the case, the credit for being "first" is disputed. My own little community of Boalsburg, Pennsylvania claims to be the originator of Memorial Day, but more than two dozen other communities make the same claim.
In the case of Labor Day, it comes down to two versions. One credits Peter J. McGuire, general secretary of the Brotherhood of Carpenters and Joiners and a cofounder of the American Federation of Labor, but others suggest it was Matthew Maguire, a machinist who was later the secretary of Local 344 of the International Association of Machinists in Paterson, New Jersey.
For me, the fact that both of these gentlemen were hands-on creators is an important distinction. Mr. McGuire's quote to describe the American worker to be honored was those "who from rude nature have delved and carved all the grandeur we behold." Isn't that what we do? Each of us starts with a story and then brings to it a unique component of our own creation. The final product is then shared with many who likely have no idea of the skilled hands and minds that were part of creating it, yet that product engages, delights, and inspires them no less.
As I write this, I've just returned from the August Board of Director meetings held at Disney World in Florida. Talk about simple stories turned into grand experiences! Besides the Board Members, Commissioners and the Conference Committee held meetings during what was a long weekend of activities. Many of the attendees arrived early with their families and enjoyed the recreational offerings before getting down to the business of the Institute. All the staff that we encountered were excellent hosts, but special thanks should go to Jack Feivou, long time USITT member and volunteer and new addition to the board, for all his assistance in making our visit magical.
Last month I shared that part of our work at these meetings would include the beginning of a new strategic planning process. I am happy to report that it didn't seem like work at all. Led by our consultant, Leslie Marqua, everyone was engaged and energized by the session that we started with on Friday morning and continued on Saturday morning. Leslie stayed with us for our formal board meetings in the afternoons interjecting her perspective on occasion as appropriate. The ad hoc committee, chaired by Immediate Past President Joe Aldridge, includes board and non-board members, all of whom attended. Non-board members include John Uthoff, Tim Kaufmann, and Ben Gasper with board representation from Joe, Dan Culhane, David Krajec, Sherry Wagner-Henry, David Grindle and me. That group also met for the first time in person with Leslie on Friday evening.
Even though this process has just begun, I can promise you that all involved so far are committed to and excited about the future of USITT and mindful that the membership is central to what that future should look like.
On a related, but separate topic, some of you may have participated in an electronic USITT member survey last winter. That survey was the result of a charge to an ad hoc committee comprised of Fellows of the Institute to create and, with the assistance of the Staff, distribute a survey to the membership. The goal was to measure member satisfaction with services and benefits currently offered. Generally speaking, the feedback was very positive, but in terms of providing improvements, there is greater need to attend to the concerns expressed.
To make the data more useful, the same ad hoc committee has done further work to sort and group the collected data according to several categories and subcategories so that areas of responsibility could be identified for further action. Since data collection of various types is typically part of assessment and strategic planning, it was determined that the winter survey data would be forwarded first to the Strategic Planning Committee. Everyone on the Survey Committee agreed that this would assure that strengths and weaknesses identified by the survey would be addressed in a meaningful, proactive way.
So as you enjoy your Labor Day holiday (and I know some of you will not get that day as a day away from work), keep in mind that, through the work we share, each of us has contributed to "the strength, prosperity, and well-being of our country."