News & Notices
Website Update Brings Interaction, Current Info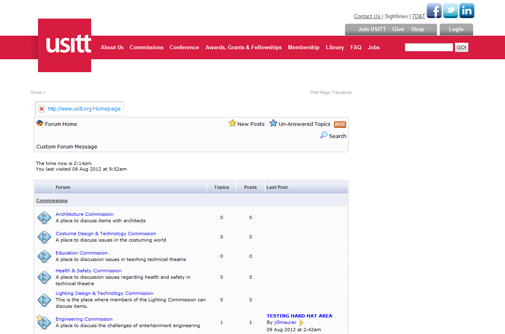 We want forums to talk with each other!
We want access to our member record!
We want an online directory that's current!
Three requests that have been expressed to the leadership and staff of this organization for quite some time are coming to fruition. The USITT website is about to undergo a major upgrade that will provide many of the services members been calling for. Over the past few months the Institute has been working with Timberlake Membership Services to establish a new member database that is integrated with the website.
Timberlake provides these services to over 300 organizations similar to USITT. They are making it possible for members to login to the website, update their own profiles, search for members, and search the website, as well as many other features that will make USITT.org a place to interact and get information.
Each Commission will have a forum to post questions and share information. Sections and Chapters will have dedicated areas to post questions and share answers. There's even a spot to talk about Conference items.
The online calendar will help visitors know what is going on around the Institute and even allow members to register for events that are managed through the national office.
The new site is currently being beta tested by about 100 members prior to the launch to the full membership. The current plan is to implement the upgrades the weekend of September 14 to 17. Look for e-mails that tell how to access profile with a username and password. Members will be able to reset individual information after the first login.
Member feedback has driven these changes. Explore the new site when it goes live and use it as a resource. It has features the membership has asked for; we hope you enjoy them.