Commissions
Costume Poster Sessions: Past, Present, Future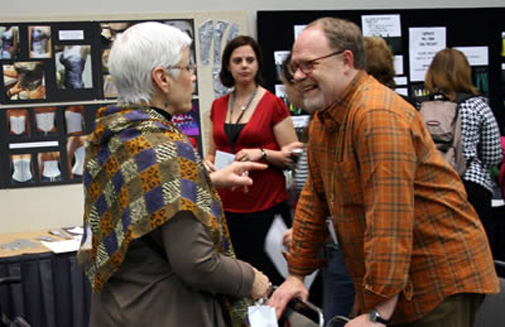 Autumn is here and it is already time to prepare for spring and anticipate the 2013 Conference & Stage Expo in Milwaukee, Wisconsin along with the annual Costume Design & Technology Poster Session.
Past costume poster sessions, 16 years' worth, will soon be available in the digital archive on the USITT website. It's still in a rough format and work is continuing to finesse it. The Costume Poster editors have been busy collecting and organizing what can be found of the history of this event, but there are missing handouts needed to complete it. See the end of this article for missing handouts.
For now, help is needed! Anyone who has copies or can recreate them for this archive should contact M.C. Friedrich, poster session chair & archive senior editor, at mcfriedr@mtu.edu.
But wait, there's more! In the past, authors and presenters of posters were limited by 10- to 15-year-old technology or what could be carried to the Annual Conference. Some past authors have gone further than just replacing what was and have expanded their information or added color photos. There is virtually (pun intended) no space limit with the archive. Others are encouraged to do the same. Again, contact M.C. Friedrich via e-mail to update a contribution.
Those who want to present at the 2013 Costume Design & Technology Poster Session may be part of the future in Milwaukee by submitting an abstract this fall to share innovations with peers. Go to www.usitt.org to find the instructors under the Conference tab.
During the Poster Session, designers and technicians share information that may not be well known or perhaps is a new invention. Review the list of past posters to see the depth and breadth of creativity.
Poster presentations, and the digital archive, are widely accepted as meeting the requirements for scholarly publication. Those who work for an educational institution might be able to get the school to fund some or all expenses to the Milwaukee 2013 Annual Conference & Stage Expo. Poster presenters also may have the opportunity to publish their ideas in TD&T.
All submissions will be blind juried by the Costume Poster Selection Committee. Ideas need to be presented in the form of an abstract. Examples of past successful abstracts can be found here.
The process for submitting an abstract and a 50-word bio will be through the website this year, a change from the e-mail format of the past. The biographies of accepted poster presenters will be used for the Annual Conference program.
The deadline to submit abstracts is November 15. All applicants will be notified by early December. Accepted presenters will be sent a list of guidelines. The actual presentation and handout information are not due until February 22.
For questions or additional information, contact M.C. Friedrich, Department of Visual & Performing Arts, Michigan Technological University, mcfriedr@mtu.edu .
USITT's Education and Lighting Design & Technology Commissions are also creating poster sessions for 2013.
USITT Costume Poster Session Archive: Missing Handouts
The Costume Design & Technology Commission is adding to its planned archive of Costume Poster presentations. The following are not currently available. Anyone who can assist with the missing information is asked to contact M.C. Friedrich.
1997
Falstaff Padding by Wren Meadows

Neoprene: From Head to Toe by Susan Brown-Strauss & Kathleen Gossman

Using the Silkpaint! Paint Pen to Create Fabric Applique on Costumes by Jennifer Kane

Tuxedos to Jumpsuits for A Chorus Line by Sharon Sobel
1998
Using Unconventional Found Materials to Create Costumes by Nick Ularu

Increasing Body Dimensions Using Bread Baskets, Shoulder Pads, and
Square Dance Petticoats by Marie Chesley

Adapting Modern Shoes to Period by Ruth Howell

Adapting Period Research to Modern Garments by Martha Cooper
1999
Blood Without Mess by Donna Conrad

Using Adobe Photoshop & Super Paint in Rendering Techniques for Costume by Nic Ularu

Where Costume Design and Special Effects Merge by Sara Medina-Pape

Designing Backwards: Development, Design and Construction of Reversed Clothing for Vasclav Havel's The Memorandum by Dana Pinkston

Two Color, Blend Fabric Dyeing Using Fiber Specific Dyes by Colleen Muscha
2000
Costume Pattern Solutions: Man's Dancepants by Martha H. Cooper

Hiding the Mic Cord: A Secondskin by Will Pickens

Old School Methods Meld New World Materials
2002
Just the Right Shoes by Ruth A. Howell
2004
Puppets for a Pirandello Production: Designing a Character from Scratch by Amanda Suit

Erte-Naissance: A Design Process for Shakespeare's The Tempest by Janet E. Swenson

Welded Wire Headpieces for The Love of the Nightingale by Sherry Harper-McCombs
2009
How to Create Carnage and Gore: As Demonstrated in The Pillowman and Sister Ignatius Explains It All by Angelina Herin

Headdresses & Hairstyles, England 600 to Present