News & Notices
In Memoriam: Frederick J. March
Frederick J. March, 73, of San Marcos, Texas, died August 6.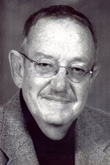 He received his BA and MA from Texas Tech University and served on the faculty of Texas State University (then Southwest Texas State), with positions that included: 1967-83 as tech director and scenic designer, 1983-88 as director of theatre, 1988-99 as chair of the department of theatre, and in 1999 was named professor emeritus. Mr. March was an Army veteran.
He served on the National Board of Directors for USITT, was a founding member of the Texas (now Southwest) Regional Section in 1971, and subsequently served as Secretary/Treasurer, and President for the Regional Section.
He had been active in TETA and received its Educator of the Year Award (1988) and Founders Award (1983). He was president from 1993 to 1995. Mr. March received two Excellence in Design awards from ACTF.
Frederick Christoffel, Chair/Scene Designer Professor of Design at Texas Tech noted "As a student at Tech, under Cliff Ashby's direction Fred designed and supervised the first 'theatre with-in a theatre' built on the Mainstage for the first Summer Rep in 1966, called "Three in Three-Quarter."
That structure was used until 1968, when Fred was hired to supervise construction of the elliptical in-the-round structure, also built on Mainstage, design by Ashby.
USITT's Immediate Past President Joe Aldridge recalled, "Fred and I were friends from TTU. In fact, on the Summer Rep seating from 1968, I was the student carpenter on that gig. My first summer stock position."
A Celebration of Life service was held August 11 at Cheatham Street Warehouse in San Marcos.
He is survived by two sons, Joe March and wife, Ann of Hoover, Alabama, and David March and wife, Joyce Griffith of Durango, Colorado; daughter, Wendy March Mueller and husband, Larry of Denver, Colorado; and three grandchildren, Madison and Caelan March, and Gemma Mueller.
Memorial contributions may be made to the Sunshine Kids Foundation, 2814 Virginia Street, Houston, TX 77098. www.sunshinekids.org.