News & Notices
Announcements
Seek 'Ideal Theatre' Entries
Architecture and theatre students are invited to participate in USITT's Seventh Annual "Ideal Theatre" Student Design Competition. The competition encourages architecture students to work with young theater artists to explore the emotive power of space, how space can aid storytelling, and how it can be manipulated to achieve a dramatic purpose. The design of the space itself should form the environment of the play supplemented by costumes, props, lighting, sound, actors, and the audience. Winning design teams will interact with working professionals and receive free Conference registrations and cash prizes.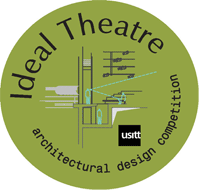 Application deadline is December 7, and the deadline for completed submissions is January 4.
A jury will select three projects for Honor Awards. The Honor Award teams will be invited to the USITT Conference & Stage Expo in Milwaukee, Wisconsin March 20 to 23. The three teams will present their designs at a special event when a final winner will be determined.
For additional information, including a design brief, application and prize list, visit www.usitt.org.
Nominations Open for YD&T Awards
Nominations open September 1 for the annual USITT Young Designers & Technicians Awards. The Institute is very pleased that sponsors for this program continue to support and encourage new talent in the performing arts of the future.
Think of all the talented young people in the industry. Surely one deserves some financial encouragement and national recognition. Take a few minutes to gather information in order to nominate them.
Each submission will require an entry fee and specific materials which may include photographs, appropriate paperwork, drawings, and renderings. All nominees and nominators must be current USITT members. Interested applicants are encouraged to visit www.usitt.org for more information.
All registrations must be received by midnight Eastern Daylight Time October 17. The deadline for submissions is November 15. Awards will be presented March 20 on the first day of the 2012 Annual Conference & Stage Expo in Milwaukee, Wisconsin.
Conference Culminates 50th Anniversary, Awards Presented
Theatre Communications Group (TCG) convened 1,000 theatre practitioners from around the world at its 22nd National Conference June 21 to 23 in Boston, Massachusetts. This year's conference was the culmination of TCG's 50th anniversary and the beginning of TCG's year-round conference and online community, Conference 2.0.
The conference theme of Model the Movement invited attendees to transform their field into a movement for the digital age. Executive Director Teresa Eyring also publically shared, for the first time, TCG's new vision statement.
Live-streamed videos captured the excitement of intellectual and artistic exchange – and extended the conversation to individuals from around the world. View archived conference videos of plenary sessions and award presentations at tcg.org/conference.
TCG presented the following awards at the conference:
National Funder Award – American Express has supported non-profit theatre and TCG for years, with a recent focus on supporting leadership development for emerging leaders.

Theatre Practitioner Award – Michael Maso has led The Huntington's administrative and financial operations since 1982, producing more than 160 plays in partnership with three artistic directors and leading The Huntington's 10-year drive to build the Stanford Calderwood Pavilion at the Boston Center for the Arts.

Peter Zeisler Memorial Award – 24th Street Theatre Company, based in Los Angeles, California, produces theatre for all ages as well as arts education and community outreach programming.

Visionary Leadership Award – Ed Bullins has written over 50 plays dealing with the intricacies of the black experience in America. Mr. Bullins entered the literary world during the Black Power Movement, a period of racial pride and social consciousness.

The Alan Schneider Director Award – Bart DeLorenzo is the founding artistic director of the Evidence Room in Los Angeles. He has directed productions at the Geffen Playhouse, South Coast Repertory, the Kirk Douglas Theater, the Cleveland Playhouse, CalArts, and the Odyssey Theater, including premieres of Donald Margulies, Roberto Aguirre-Sacasa, and Justin Tanner.
ILC Gives to Behind the Scenes
Intelligent Lighting Creations (ILC) hosted a charity golf event benefiting Behind the Scenes July 10 at the Hilton Indian Lakes Resort. Over 40 customers and clients of ILC came out to support the cause and mingle with company representatives and industry professionals.
ILC doubled the amount raised and presented Behind the Scenes with a check for $5,065.
In addition to ILC hosting this event, sponsors donated as well. Philips Strand sponsored the registration table, Philips Vari*Lite sponsored the beverage cart,and Lex Products sponsored the reception. Three companies, Apollo Design, Martin Professional and Elation Professional funded the four hole competitions, which awarded four golfers $100 cash. ILC also provided incentives for the two-person scramble winners.
September 15 Deadline for ETCP Exams at LDI
ETCP examinations will be given at LDI 2012 in Las Vegas. All three ETCP examinations will be given in one session the morning of October 20. Candidates who wish to take more than one exam should contact ETCP. Interested applicants must submit their application, along with supporting materials and fee, to the ETCP office no later than September 15. USITT members receive a discount on the exam.
Candidate information, including eligibility requirements and applications, is available on the ETCP website. To have information mailed, contact Meredith Moseley-Bennett, ETCP Certification Manager, at 212-244-1505 or etcp@plasa.org.
Announce Grant Recipients
The Andrew W. Mellon Foundation and Theatre Communications Group (TCG) announce the inaugural round of recipients for the Leadership U[niversity] program. Six early-career theatre leaders will receive One-on-One grants for professional development via mentorships at TCG Member Theatres. Eight mid-career and veteran theatre professionals at TCG Member Theatres will receive Continuing Ed grants for learning opportunities to advance their leadership skills.
One-on-One grants of $75,000 will go to talented early-career leaders with an additional $5,000 honorarium for each mentor. Up to an additional $14,500 in supplemental funds may be used for student loan repayment, professional development or life needs. Continuing Ed Grants of $6,000 have been awarded to the applicants' home theatres on behalf of the theatre practitioners.
One-on-One Grant Recipients:
Diana Buirski will be mentored by Denver Center Theatre Company's managing director, Charles Varin. Buirski will hone her skills in fundraising, budgeting, and season planning.
Amanda Delheimer Dimond will be mentored by Looking Glass Theatre Company's (Chicago, Illinois) executive director, Rachel Kraft. Ms. Dimond's mentorship will encompass the areas of executive and artistic direction.
Seema Sueko will be mentored by Arena Stage's (Washington, DC) artistic director Molly Smith. The mentorship will focus on artistic direction.
Matt O'Hare will be mentored by The Builders Association's (New York City) artistic director Marianne Weems and sound designer Daniel Dobson. O'Hare's mentorship will focus on interactive sound and video design for theatre.
Quentin Talley will be mentored by Penumbra Theatre's (St. Paul, Minnesota) founder and artistic director Lou Bellamy. The mentorship will cover programming, education, and directing.
Maureen Towey will be mentored by Berkeley Repertory Theater's (Berkeley, California) artistic director Tony Taccone. Towey's mentorship will focus on interactive technologies and community engagement.
Continuing Ed Grant Recipients:
Chicago Dramatists' (Chicago) associate artistic director, Meghan Beals McCarthy, will connect with playwright development centers around the country.
Dallas Theater Center's (Dallas, Texas) stage operations manager, Travis Ross, will explore safety practices and procedures.
Dell'Arte International's (Blue Lake, California), executive director, Stephanie Thompson, will seek perspectives from leaders in the theatre field and her local community.
Seattle Repertory Theatre's (Seattle, Washington) associate artistic director, Braden Abraham, will visit organizations with successful playwright residency programs and writers groups.
Tennessee Women's Theater Project's (Nashville) founder and artistic director, Maryanna Clarke, will travel to Nightwood Theatre in Toronto, Ontario to investigate elements of its success and longevity.
The Civilians' (Brooklyn, New York) artistic director, Steve Cosson, will research models of investigative and verbatim theatre organizations, and artistic directors.
The Old Globe's (San Diego, California) technical director, Benjamin Thoron, will explore project management methods in both theatrical and industrial settings.
Theatre of Yugen's (San Francisco, California) artistic director, Jubilith Moore, will travel to Japan to participate in Theatre Nohgaku's Noh Costuming Workshop.
Portable Stage, Fall Arrest Draft Standards in Review
BSR E1.21 - 201x, Entertainment Technology - Temporary Ground-Supported Structures Used to Cover the Stage Areas and Support Equipment in the Production of Outdoor Entertainment Events, and BSR E1.39 - 201x, are in review through September 24. The reviews are over when the end date of September 25 is reached and may be downloaded for free at tsp.plasa.org/tsp/documents/public_review_docs.php.
BSR E1.21 is a revision of ANSI E1.21 -2006. It is being revised to cover the design, manufacture, and use of all the portable structures (not only roofs) used to support scenery, lighting, and sound equipment, and to cover the stages in the production of outdoor entertainment events.
BSR E1.39 is a draft of a new standard being written to establish minimum requirements for the selection and use of personal fall arrest systems on portable structures in the entertainment industry. It also establishes minimum requirements for manufacturers and owners of these structures being used as work platforms.
For more information, contact Karl Ruling, PLASA's technical standards manager, at karl.ruling@plasa.org.
Behind the Scenes Reaches Milestone, Attends Nashville Event
Behind the Scenes has reached an important milestone in its history – it has issued over a quarter of a million dollars in grants to entertainment technology professionals who are seriously ill or injured.
These grants have gone to a wide array of industry members and their families.
The wife of a cameraman with cancer who underwent radical surgery, chemo, and radiation and was about to lose his health insurance, wrote, "We are overwhelmed by your kindness and help to us. I promise we will pay this kindness forward to someone in need like you have done for us. Thank you so very much from our hearts and our children. You have shown our children the true kindness of fellow man."
An audio engineer undergoing multiple surgeries and lengthy treatment due to an autoimmune disease wrote, "I am the sound man - that guy whose name you may not remember. I couldn't believe that, when I needed help, Behind the Scenes was there and didn't turn their back on me. I am the crew guy, not the superstar. Without Behind the Scenes, I would not have made it; that's a fact. I can never thank them enough for their help, and I can never thank them enough for the compassion they showed me in my true time of need. For everybody who contributes to Behind the Scenes, thank you. You helped save my life."
All funding for Behind the Scenes comes from individuals and companies in the industry. Make a donation, purchase Behind the Scenes swag (including specially designed holiday cards, support one of the many initiatives such as the Long Reach Long Riders, or purchase from one of the industry companies who have designated the profits of certain products to the charity. For more information about Behind the Scenes visit www.estafoundation.org/bts.htm.
Behind the Scenes participated at PLASA Focus Nashville to raise funds and awareness about the charity. The fundraising was made by possible by the generous donation from Mainstage Theatrical Supply, Inc. of an ETC Source Four Lustr+ LED Light Engine as a raffle prize. The raffle winner was Steve Gilbard from Coolux. Behind the Scenes raised just over $1,000.
Local Certifies 36 Theatre Riggers
The Entertainment Technician Certification Program (ETCP) has awarded 36 International Alliance of Theatrical Stage Employees (IATSE) Local One members with its Rigger - Theatre Certification. 
"We are extremely proud to add some of Broadway's finest theatre riggers to the list of ETCP Certified Technicians," said Paul Dean, Jr. who helped organize a four-day training course prior to the exam administration. "Our members who are ETCP Certified also include technicians from Lincoln Center, The Metropolitan Opera House and various television studios who work throughout Local One's jurisdiction which includes Manhattan, the Bronx, Staten Island, and Westchester and Putnam Counties."
Eddie Raymond, Chair of the PLASA North American Board, said, "Once again Local One has demonstrated that they are leaders in the theatrical industries. By hosting the ETCP Theatre Rigger Certification Exam and successfully certifying 36 members, Local One has set the standard for theatre locals throughout the Alliance."