News & Notices
Announce 2012 YD&T Award Winners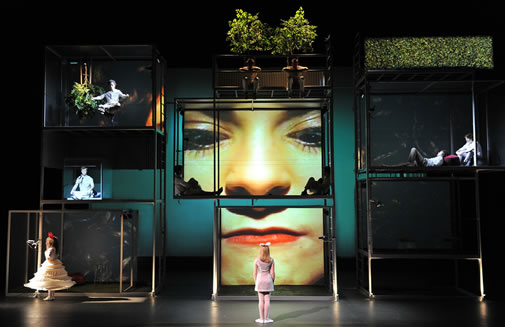 Winners of the nine USITT Awards for Young Designers & Technicians in the Performing Arts have been selected for 2012. All winners were nominated by USITT members. The adjudication process included jury members whose areas of expertise matched the award categories working with representatives of the individuals and companies who sponsor the awards.
The winners will be honored during USITT's Annual Conference & Stage Expo in Long Beach California in March. Awards will be presented during the Opening Night celebration on Wednesday, March 28.
Winners and their awards are:
Scott Wolfson of Indiana University is the winner of the KM Fabrics, Inc. Technical Production Award. Paul Brunner (who won the award in 2001) nominated Mr. Wolfson, who is scheduled to graduate in May. This award is given to an individual who demonstrates excellence or outstanding potential in technical direction or production. Jurors noted Mr. Wolfon's "efficient use of time and collaboration with other departments" in achieving a 40-hour changeover which "embodies the spirit of a technical director."
Hidenori Nakajo will receive the Robert E. Cohen Sound Achievement Award. Joe Pino nominated Mr. Nakajo who graduated from Carnegie Mellon University. One adjudicator describes Mr. Nakajo's compositions as "expressive and polished, while also being very connected to the project they are created for."
Catherine Wilson, winner of the USITT Lighting Design Award sponsored by Barbizon Lighting Company, will graduate from Carnegie Mellon in May. Ms. Wilson was nominated for the award, which honors someone with excellence or outstanding potential in lighting for the performing arts, by Cindy Limauro. Her portfolio submission showed "fantastic renderings" and the actual show was noted as "very powerful and speaks to the planning that is involved in lighting."

Charles Murdock Lucas is one of three University of North Carolina School of the Arts graduates who will be honored. He will receive the USITT Scene Design Award sponsored by Rose Brand. Charlene Gross nominated Mr. Lucas, who was noted by the jury as "an extremely gifted designer… Each design is unique to the story."
Shannon Smith, a student at Ohio University, was selected for the Zelma H. Weisfeld Costume Design & Technology Award. Ms. Smith, who will receive her degree in June, was nominated by Holly Cole. The award will again be presented by Ms. Weisfeld, professor emeritus at the University of Michigan. Ms. Smith was noted as being "highly original and very talented." And "an extremely promising young designer."
Andrew Wallace will receive the Bernhard R. Works, Frederick A. Buerki Scenic Technology Award. He will graduate in May from Yale University. Mr. Wallace was nominated by Bronislaw Sammler, who also nominated the winners for this award for the past three years and himself received the 2009 USITT Distinguished Achievement in Technical Production Award. Adjudicators commented "The work shown by Andrew demonstrates excellence in technical direction and a level of professional work that all students should strive to meet."  
Holland Berson, winner of the USITT Make-up Design Award sponsored by Kryolan, will receive her graduate degree in May from the University of North Carolina School of the Arts. Nominated by Michael Meyer, Ms. Berson was complimented by an adjudicator for her "very refined, detailed, professional quality examples!" Another noted her work was "professional level, almost flawless."
John Bowhers, also of UNCSA, will receive the USITT W. Oren Parker Scene Design Award sponsored by Stage Decoration & Supplies, Inc. He was nominated by John Coyne. One adjudicator commented on Mr. Bowhers' "very sophisticated sense of sculptural space. Beautiful use of images, textures, and penetrated planes. Skillful models. Good understanding of drafting as a design tool. Delightful and theatrical sense of storytelling in his storyboards."
David Beller, recipient of the USITT Stage Management Award sponsored by Clear-Com, was nominated by Tina Shackleford. He will graduate in May from Carnegie Mellon University. One adjudicator was impressed that he has "not only master the paperwork basics, but is seriously exploring new and innovative ways to accomplish those tasks without paper."
More than 70 students were nominated for awards during the 2012 process. After being nominated, each submitted a portfolio including a resume, letters of recommendation, and examples of their work in a specific field covered by the award.
In addition to the public recognition they will receive when the awards are presented on March 28, each winner will receive a cash prize, complimentary registration for the 2012 Annual Conference, and an opportunity to meet and discuss their work with award sponsors and members of the adjudication panels.
A complete list of past Awards for Young Designers & Technicians in the Performing Arts is available here. The application process for 2013 YD&T award will be available online in the fall of 2012.