Conference & Stage Expo
Investigating the International Scene at Long Beach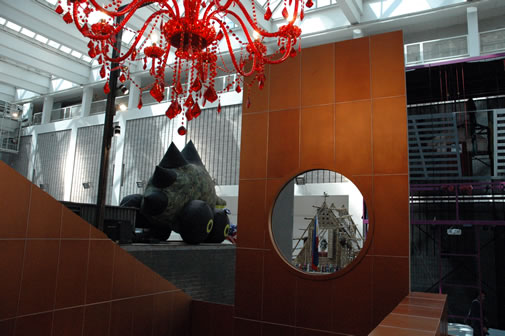 This year's offering of international sessions at The 2012 Conference & Stage Expo in Long Beach includes a wide variety of topics, and introduces works by artists from many different countries and many different areas of performance design.
Participants will look back at successes and stories of Prague Quadrennial, learn about carnival in Cuba and it's costumes, observe mask making techniques from around the world, and visit the virtual site and planned activities of World Stage Design 2013.
In Postcards from Prague, USITT-USA Artistic Director Susan Tsu will lead a walk through the National Exhibit Pavilions displayed at the 2011 Prague Quadrennial. From the holograms of Serbia, to the national pride exhibited in Brazil and Mexico, and on to the extraordinary craftspersons of Canada and Spain, join Susan Tsu for a rollicking traipse around the world -- PQ style!
Mike Monsos will take visitors back to Scenofest 2011, virtually into the city of Prague itself that offered a great many opportunities for learning, interaction, and shared experiences through theatre and performance design. Sean Crowley will introduce the new Scenofest activities planned for 2013 World Stage Design in Cardiff, United Kingdom.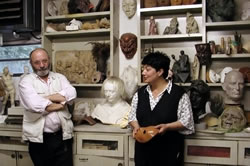 Join Deb Bell for a session that presents an overview of the mysteries and mythic associations of traditional masks from Sweden, Bali, Japan, Trinidad, Mexico, Nigeria, Northwest Canada, and several other countries. Her book, Mask Makers and Their Craft explores universal challenges facing traditional mask makers.
Even as their centuries-old intricate techniques in wood carving and leather modeling are threatened with extinction, new techniques in vacuform, latex, and silicone molds increasingly beguile audiences on stage and screen. Additionally, video games such as the Nintendo Wii games allow players to create personal avatars that simulate, exaggerate, or distort these "masked" images at will, yet traditional mask iconography continues in these new mask versions.
Do the benefits of having international students in the classroom justify the difficulties of bringing them here? This will be the main question around which the discussion led by Alessia Carpoca will be centered.
March Sightlines will include information about sessions featuring winners of the PQ Golden Triga, Best Scenography and Use of Technology, and Lighting Design awards. The issue also will introduce the international artists coming to USITT's Long Beach event from Brazil, Cuba, Croatia, and Cyprus.