Commissions
Costume Sessions in Long Beach and Beyond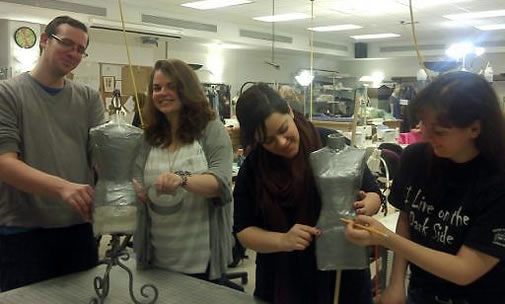 The Costume Design & Technology Commission will offer three hands-on sessions at the Long Beach 2012 Conference & Stage Expo. The newest offering is Hands-on Make-up. This will join the popular technology and design sessions.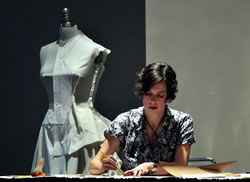 Martha Ruskai and Amanda French will lead the make-up session to include a discussion about teaching make-up followed by breakout groups who will have a chance to focus on make-up for different artists and the use of a variety of tools. Anyone interested in seeing make-up kits from different vendors will have the chance to compare them side-by-side.
Vice-commissioner for costume technology Regina Truhart and vice-commissioner for costume design Tom Bernard have teamed up this year to present two consecutive hands-on collaborative sessions scheduled for Saturday afternoon beginning at 2 p.m.
The afternoon will begin with Mr. Bernard's Inspired Design where participants will draw, paint, color, scribble and possibly interpretive dance their way through a series of inspiring rendering exercises developed to help translate the imagery of language into the imagery of a two-dimensional costume rendering. The goal is to create abstract costume designs that express the pure essence of the language in some sort of two-dimensional form. As Tom noted in a preliminary planning meeting, "I'm excited to get back to exploring the core elements of costume design; we don't always have time to enjoy the creative moments of design these days."
After a short break, participants are invited to bring their designs into Ms. Truhart's Draping as Sculpture which starts at 3:30 p.m. to continue exploring the key elements of design through the three dimensional medium of fabric sculpture. The participants will be organized into small groups, made up of both designers and technicians.
They will be given a variety of materials to work with, and then guided through a series of collaborative draping techniques that focus on the elements of design rather than the more complex technical details of pattern development. The goal of this session is to allow the participants to explore the magic of draping as a pure art form rather than to get caught up in the complexities of pattern development.
Supplies needed to build and ship the 30+ half-scale dress forms needed for this session have been donated by the Professor Dean Mogle, head of the costume design and technology program at University of Cincinnati College Conservatory Music.
While it's certainly possible to attend these sessions separately, in the spirit of collaboration, all are encouraged to attend both for the full experience.
Programming Ideas Wanted
Now is the time to propose exciting sessions for the next conference. Session proposal forms are online at the USITT website under the Costume Design & Technology Commission tab. Proposals will be decided on during the commission's meeting in Long Beach.
 
The deadline for proposals is March 9. Mark this on your calendar. This is the same deadline for PDW proposals.
Fill out the same form but indicate next to the title that it's a PDW. Send the completed form to Melissa Merz, melissa.merz@ttu.edu, and Donna Meester, dmeester@as.ua.edu. This should ensure that at least one will get it.