Commissions
Training for Film, TV, Entertainment Design Focus of Session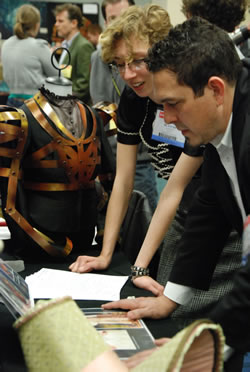 The Relationship Between Traditional and Digital Methodology in Film, TV, Commercial Work and Theatre is a special panel discussion from the Scene Design & Technology Commission at the Long Beach 2012 Conference & Stage Expo. It will use the availability of Southern California resources to focus on the Los Angeles film and television industries.
The session will look at developing television, film, and digital content in theatre training programs during a rapidly enlarging digital age, and its relationship to traditional training. The panel will discuss what is essential in training the next generation of production designers for television, film, and the digital entertainment world. At the USITT Annual Conference in Charlotte, panelists discussed the need to fuse the classical skills of design with digital training. They proposed a classical undergraduate liberal and fine arts education with training in such traditional crafts such as hand drawing and painting with digital crafts.
These conclusions may be reexamined in Long Beach. Major Los Angeles film and TV media professionals such as Thomas Walsh, production designer and co-chair of the Art Directors Guild Film Society and a member of Art Directors Guild Local 800 as well as USA 829 will participate. Ramsey Avery, production designer, art director, and concept designer along with John Iacovelli and Jim Pohl are scheduled to be on hand. Both continue to work in theatre. They, along with East Coast professionals, will present a combined approach to the same set of work principles. Also involved will be Cara Brower, set designer; and Peter Rogness, Allison Ford, Teresa Carry-Thacker, Christine Jones, Derek McClain, and Kim Jennings.
The hope is that these sessions will not only make it clear that either or both of these approaches lead to results on stage, on set, and on the screen, but there is a simple fusion between all crafts, organized and arranged by an artist, and more importantly as a designer.
At the 2011 Annual Conference & Stage Expo, the Commission brought together Patricia Woodbridge, Tom Cariello, Laura Crow, Helene Siebrits, and Charles McCarry to demonstrate the minimum skill sets and understanding of theatre literature, history, and liberal arts for students entering the entertainment and theatre industries. Another set of panelists representing United Scenic Artists, Local 829 which included Kurt Sharp, Carl Baldasso, Ms. Woodbridge, Mr. McCarry, and Mr. Cariello presented their knowledge of minimum standards in scene design to enter the union.
An examiner reported that candidates for union membership in New York were remarkably unprepared, and candidates were either overly digitally oriented or completely traditional.
Also noted was that there were no digitally-created works displayed at the Young Designers Forum in Charlotte; they were all traditionally-generated.
For a double-session on coming up with the Big Ideas and making it real, see The Last Word.