News & Notices
Kook Fund Art Auction in Long Beach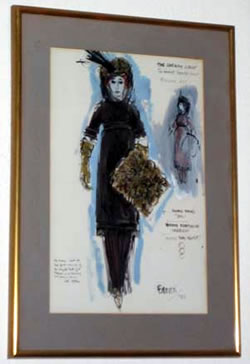 The Edward F. Kook Fund Tri-Annual Theatre Art Auction is coming to Long Beach and will be a featured event on the show floor during USITT's 52nd Annual Conference & Stage Expo.
The Grants & Fellowship Committee has accumulated donations of extraordinary artwork to be offered. There will be approximately 30 individual works of theatre art; costume renderings, set designs, lighting plots and more, all created by some favorite artists. Look for fabulous works of art from Carrie Robbins, Becky Cunningham, Betty Poindexter, Jules Fisher, Herb Camburn and many others.
The auction will commence at the opening of Stage Expo on Thursday morning and will continue through 1 p.m. on Saturday when the final bids will be taken.
The Silent Auction format allows participants to surreptitiously bid and re-bid in an effort to outwit opponents. Not only is the artwork the prize at the end of the process, getting there is half the fun. All the proceeds from the auction go directly to the Edward F. Kook Fund which provides financial support for the Grants & Fellowships program. Each purchase of a $5 bid number makes a small donation to the Kook Fund.
Back by popular demand will be the Kook Fund Garage Sale of items unique to the theatre world. There's no telling what wonderful and whimsical bits and pieces will appear for purchase at this part of the event. The auction is exciting, the cause is good: assisting USITT to provide grant and fellowship research funds. Look for the 8th Tri-Annual Kook Fund Art Auction next to the USITT booth at Stage Expo.