News & Notices
In Memoriam: Don Childs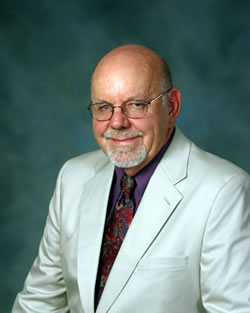 Don Childs, beloved friend, designer, educator, father and husband, died December 18 in Stillwater, Oklahoma. Nothing can be written about Don that will express the void left in the lives of those that considered him our friend and mentor. From students and artists to industry professionals, all will miss his creative mind and talents.
He touched the lives of hundreds if not thousands of students, artists, and all who met him. He was a tireless worker who put his all into each and every production he worked on, creating both sets and lights for hundreds of shows across the United States and Canada.
He was a prolific, award winning lighting and set designer who felt that it was his duty to give back by training new artists in his craft. In 1970, he began his life-long dedication to teaching which led him to universities in six states and two countries. In 2006, he and his wife, Jane, founded Stagecraft Institute of Las Vegas, a summer training program centered around Mr. Childs's belief that education is best served by hands exposed to the newest technology in the field and some of the best live shows using that technology.
Opportunity was what he tried to offer everyone: opportunity to grow as an artist, technician, and more importantly, as a person. While Mr. Childs was teaching at Concordia University in Canada, a group of young men asked for a space to perform. Mr. Childs gave them that space, encouragement, and chances for some of his students to gain experience. Today, this group is known as Cirque de Soliel.
Don worked tirelessly for USITT to expand the horizons of members and potential members. He was immediate past chair of the Southwest Regional Section, but before that was a charter member of the Northern California Section and founding Chair of the St. Lawrence Section (which became inactive when CITT developed), and was a Director at Large in the 1980s.
He organized special exhibits at the Annual Conference & Stage Expo, led or was a presenter at many sessions, and supported the organization in many ways both small and large, including as an exhibitor at Stage Expo.
He is survived by his wife, his daughter, Tera, and thousands of students and friends. Those touched by his friendship can attest that Don lived every day by his friend Ladislav Vychodil's saying: "Integrity is all we have; an artist without integrity has nothing." Don had integrity and our love.
A remembrance is being planned in Long Beach, California on Saturday, March 31 after the close of the 2012 Stage Expo.
At the family's request, memorial donations may be made to USITT to support students attending the USITT Annual Conference. Donations, made payable to USITT and designated to Don's memory may be sent to 315 South Crouse Ave., Suite 200, Syracuse, NY 13210.