News & Notices
Prizes Offered to Students Who 'Hunt' Fellows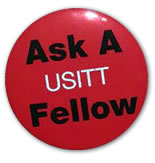 At the Long Beach 2012 Conference & Stage Expo March 28 to 31, there will be a "scavenger hunt" contest with the prize of an all-expenses-paid mentoring sessions for two USITT Student Members.
Participants may pick up a contest form at the Network Nexus Booth. The form will have six boxes on it, each box containing a photograph of a Fellow but no clue as to the Fellow's name. These photos will NOT necessarily be current, making identity more difficult. The challenge is to discover the identity of the six Fellows, find each Fellow, and have the Fellow sign the contest form. Contestants are allowed to ask anyone at the Conference for assistance in identifying the six Fellows.
Once the form is completed, it must be turned in at the Network Nexus where all correct forms will be entered in a drawing. Contest forms must be turned in by 11 a.m. Saturday, March 31.
Two names will be drawn at random from those who successfully identified all six Fellows. Each winner will be awarded a two-day, all-expenses-paid mentoring session with a Fellow of their choosing. The students may know of a Fellow they would like to have as a mentor, in which case the Fellows Organizing Group will communicate with that Fellow to see if she/he is able to participate. If they do not have a specific Fellow in mind, the Fellows Organizing Group will assist in identifying a Fellow in the appropriate area of interest.
The Fellows Organizing Group will be responsible for making the initial contact with the Fellow Mentor. They will make certain the Fellow Mentors and the students can agree on a time and place for the mentoring sessions. The sessions may take place at the Mentor's home city or perhaps at a project location where the Fellow Mentor is working.
Each winner will be responsible for making arrangements for their transportation, lodging, meals, and any other personal needs which will be paid for by USITT as the contest prize. The Fellow Mentor will be responsible for determining the times and places for the mentoring sessions and deciding on the substance of the session.
Within 10 days after the mentoring session, each student will be responsible to write a narrative detailing the mentoring session. This narrative will be published in the Fellows Newsletter and may be used in other USITT publications.