Commissions
Lighting Sessions Offer Variety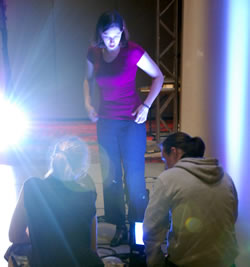 The Lighting Design & Technology Commission always strives to provide conference programming that will be of interest and useful to its varied constituents. Many hours go into the planning of these sessions beginning prior to the previous year's conference and often continuing until the day the session is presented. This year is no exception.
 
The session offerings at the Long Beach 2012 Conference & Stage Expo reflects topics to pique the interest of the majority of members no matter what area of lighting their interests lie or their level of expertise.
In Lighting Designer/Director Collaboration, a panel of designers and directors will discuss how to make the communication process less turbulent. Topics like learning each other's language, what questions to ask, and how to present design ideas in a way that the director understands. Most of us have been there, sitting at the tech table setting and fine tuning looks when the director announces," The lighting is all wrong! It doesn't work at all! This isn't what we talked about in the production meetings! Fix it!" This is a failure in communication. It doesn't matter who's to blame, the issue needs to be resolved expediently.
Preparing for a Career on the Road will focus on leading the "glamorous life" of a roadie. This session will deal with learning the necessary skills to get the job and what to expect once the journey begins. Whether traveling with a theatrical production, concert tour, or an industrial, the panel of experienced roadies will explain how to be successful and how to avoid the ever-present pitfalls, from meeting stars to 18-hour days and not knowing what day it is or what city you are in.
In a Career Path to Architectural Lighting, a panel of architectural lighting designers will discuss the similarities between architectural and theatrical lighting, what training is necessary to get into this exciting field, and talk about some of their most and least successful projects. This session will appeal to any member with an interest in "permanent lighting."