News From David Grindle, USITT Executive Director
A Lot to Learn In – and About -- Salt Lake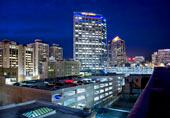 Salt Lake City. (If you are fan of Book of Mormon, just let that earworm get good and burrowed in.)
Here we are, six weeks from gathering in Salt Lake City. It's a city that USITT has never been to for its Conference. Frankly, it's a city most Americans haven't visited. And that's a complete and total shame because whatever we think we know about Salt Lake City from a musical or the HBO series Big Love is about to be upended by the truth.
Home to the 2002 Olympics media center, the Salt Palace Convention Center will be the focus for our annual education. I can't cheer on the work of our Commissions enough. The educational sessions this year are outstanding. There is something for everyone at every level of learning -- and each of us are at every level. We are novices at some things and advanced at others. We have hands-on and "hands off" learning. It is all here for you to peruse. And remember, just because you identify with one Commission doesn't mean you can't explore learning offered by another. That's at the heart of USITT: cross- disciplinary learning! Give it a try!
When we considered Salt Lake City, I was asked "if they will accept people like us." I'm not wholly sure what that means, but our multi-tools, matching black, and pony tails will be fine. The Salt Palace also hosts the annual Crystal Mountain Pony Con, a My Little Pony Cosplay event including 800 "Bronies" – adult fans of the cartoon ponies. That's after Salt Lake hosts Furry Unlocked, for gamers who like to dress as animal characters. So 5,000 designers, technicians, managers, architects, and the like are going to be just fine in Salt Lake City.
The theatres in downtown range from classic to brand new. The Opera will be presenting Aida (the Verdi, not the Elton John) while we are in town. Utah Symphony and Opera is one of America's great regional companies. It gives you a chance to hear the Utah Symphony as well, so take the opportunity if you can.
The food scene in Salt Lake City is also fun. From Italian to sushi, small plates to gigantic steaks, you will find it in the downtown area. And yes, Virginia, you can get a drink in Salt Lake. Those aforementioned Olympics changed the old laws. So fear not, there's plenty of places to meet and socialize all within walking distance of the hotels. If you really want convenience, the light rail in the convention center core is free of charge.
Our Keynote Presenter Tupac Martir will get things off with a bang on Wednesday. We'll be jumping to Stage Expo on Thursday, and Friday and Saturday follow with one of the greatest slates of education our Commissions have ever created. Come to Salt Lake City. You'll leave better connected to your peers, with a deeper knowledge of your skills, and wiser with the knowledge that Chicago isn't the only great city on a lake.
See you in Salt Lake City!