News & Notices
Eileen Curley Named New TD&T Editor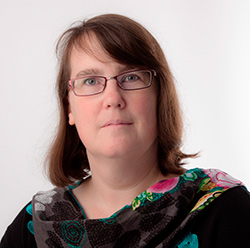 Eileen Curley, Ph.D., is the new Editor-In-Chief of Theatre Design & Technology.
Curley, an Associate Professor of English at Marist College in Poughkeepsie, NY, holds a BA in Theatre from Grinnell College, and an MA and Ph.D. in theatre history, theory, and literature from Indiana University.
She brings to TD&T a wide range of theatrical writing and editing experiences. She has published in Theatre Journal, Theatre Topics, Popular Entertainment Studies, The Journal of American Drama and Theatre, and Theatre Symposium. She has served as a reader for the Canadian Review of American Studies, Texas Theatre Journal, The Journal of American Drama and Theatre, and Theatre History Studies. She was on the publications committee for the American Theatre and Drama Society.
At Marist College, she has designed scenery, among other production responsibilities, while teaching literature and drama. This past semester, she taught in Florence, Italy, as part of Marist's Freshman Florence Experience program.
Outside of academia, she has worked with the Brown County Playhouse, the Hudson River Valley Institute, and the Smithsonian National Museum of American History.
The Search Committee, which included USITT's Publications Committee and three TD&T associate editors, was impressed with her proven ability to work with a range of writers, her capacity to engage associate editors into the process, and her ideas for taking TD&T into its next 50 years.
During her interview it became apparent that Curley possessed the gravitas to augment the work of USITT's most seasoned writers and the warmth to nurture novice ones. She recognizes the strengths of TD&T and sees the opportunities for future growth, both in terms of scope and quality.
Former TD&T Editor David Rodger and Art Director Debra Hazlett built a tremendous foundation on which Curley will build TD&T's status as the journal of record on the history of and innovations in entertainment design, production, and management.
To contact Curley or submit to TD&T, email TDTeditor@usitt.org.