News From
Regional Sections
Northern Boundary: Names Scholarship Winners for USITT 2016
Five college students received scholarships from the Northern Boundary Regional Section to help cover the costs of attending USITT 2016 in Salt Lake City in March.
The winners are:
The SECOA Scholarship
Becky Raines, St. Olaf College
The John Mullen Scholarship from Norcostco/Stage Technology
Emma Downey, St. Olaf College
The USITT NBS Scholarships
Elsa Larsen, Gustavus Adolphus College
Matthew Kornegay, St. Mary's University
The NBS "Doughnut" Scholarship
Chris Schneider, Gustavus Adolphus College
Once again it was exciting to see so many students apply for scholarships.
The Section appreciates the support of USITT, all Northern Boundary members, SECOA, and Norcostco/Stage Technology for making these scholarships possible.
The scholarship reading committee – Michael Burgoyne, Tiffany Fier, Ricky Greenwell, Jerry Kraft, and Corey Shelsta – spend much time reviewing all the scholarship applications and ranking the applicants.
Thanks to all of the students who applied, and to the faculty/staff who encouraged students to apply.
Midwest: Digital Design Competition Winners Announced
The Midwest Regional Section awarded scholarships for USITT 2016 registration to Daniel Grayvold and Kevin Nelson, the winners of its 2015 student Digital Design Competition.
The competition was adjudicated by David M. Barber.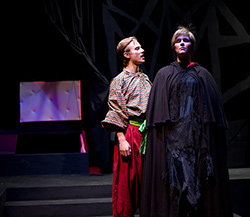 Grayvold, a fourth-year sound design major at Michigan Technological University, won the Realized Sound Design award for his design for Alternate Realities. In addition to his work in theatre, he aspires to compose and design sound for film, television, and video games. He also enjoys photography as a creative outlet.
His describes Alternate Realities as "an anthology of 20th century abstract theatre pieces. The design for which I won my award focused on Futurism and Absurdism and contained original music composition inspired by such sources as Luigi Russolo, George Michael, and Alfred Hitchcock."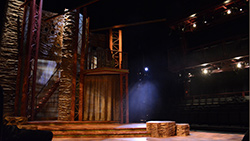 Nelson, a second-year scenic design M.F.A. candidate at Indiana University in Bloomington, IN, won the Realized Scenic Design award for his conception of Antigone. After receiving his bachelor's degree in theatrical design from the University of Wisconsin-Parkside with a concentration in scenic design and technical direction, he worked on the 2014 U.S. domestic tour of Disney on Ice!: 100 Years of Magic, as well as at American Players Theatre in 2013 and 2014. His work at IU includes two world premiere scripts for the At First Sight play series. His winning design for Antigone opened on Dec. 4 in IU's Wells-Metz theatre.