News Releases from
Our Industry Members
Chauvet Professional: Pumps Up NY Rangers, Orange Bowl Events
Sustaining member Chauvet Professional provided equipment to make festivities before the New York Rangers season opening game and the Capital One Orange Bowl halftime show that much more special for fans.
Throngs of Rangers faithful gathered at Madison Square Garden's Foyer Court for a pregame celebration which they followed on a video wall composed of 32 MVP Ta8 Curve LED panels from CHAUVET Professional.
A collection of 10, Strike 4, warm white LED fixtures from CHAUVET Professional, provided by The Design Oasis, lighted the Orange Bowl halftime performance by Rock and Roll Hall of Famer and multi-Grammy winner John Fogerty. They were used for their compact size, power and versatility.
Columbus McKinnon: Calendar Contest, Webinars Celebrate #RigSafe Year-round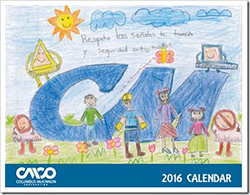 As part of Sustaining member Columbus McKinnon Corp.'s continued commitment to safety, it kicked off its third annual Safety Calendar Contest where children and grandchildren of its associates around the world submitted 90 drawings on the theme of "Safety at Work, Home or Play." Thirteen winners and nine runners-up are featured in the 2016 calendar. Judging was based on originality, artistic merit, and expression of the safety theme.
Columbus McKinnon also offers free online Safety Webinars at www.cmworks.com/training.
Here's a great video featuring its 10 most FAQs:
GLP: X4 Bars Join Australian X Factor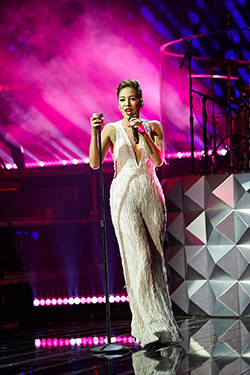 Australian TV lighting designer Ian Anderson wasted no time in commandeering Sustaining member German Light Products, Inc.'s new LED-based impression X4 Bars as soon as they arrived in the country, pressing them into service on the latest series of X Factor.
He said the X4 Bars provided easy and straightforward integration.
Philips Strand Lighting: Creates Immersive Environment at NJ High School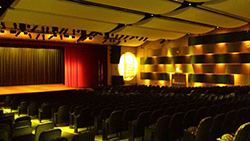 Contributing member Philips Strand Lighting provided PLFRESNEL1 and PLPROFILE4 LED luminaires along with a NEO lighting control console, Vision.net Touchscreens, an A21 Dimming System, and CD80SV Retrofit Dimmer Modules as part of a systems renovation project at the Passaic County Technical Institute (PCTI) in Wayne, NJ. The school's School of Performing Arts stives ot involved students in artistic development with the desire to immerse the audience into each performance.
Meyer Sound: LYON Roars onto Broadway, LEOPARD Purrs Jazz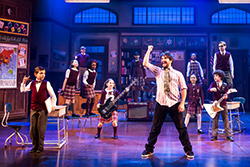 Two of the hottest musicals this Broadway season – School of Rock and On Your Feet – are supported by reinforcement systems built around Contributing member Meyer Sound LYON linear line array loudspeakers. Both shows mark the Broadway debut of LYON.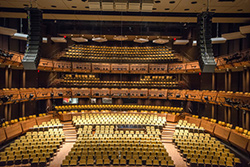 Jazz at Lincoln Center (JALC) now features Meyer Sound systems in every performance space at the prestigious Lincoln Center complex, including a LEOPARD linear sound reinforcement system in the Rose Theater, a Constellation acoustic system in the Appel Room, and an ULTRA Series loudspeaker system in Dizzy's Club Coca-Cola.
Alcons Audio: Kulturhaus Dornbirn Opts for Pro-ribbon Solution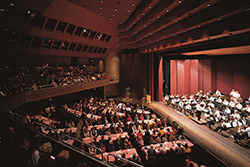 The Kulturhaus ("culture house") Dornbirn, Austria, completed a two-year upgrade with the installation of a sound system from Sustaining member Alcons Audio in the main hall.
The sound system consists of four Alcons QR24s, four Alcons LR7 micro line-arrays, and an Alcons VR12. The systems are driven by one Sentinel S10 and two Sentinel S3 amplified loudspeaker controllers. The signal is distributed via a Xilica Neutrino A1616ND and Xilica Rio R1616N Audio Matrix with Dante connection to the Yamaha CL5 / CL3 consoles.
Point Source Audio: Chicago West End Production to Feature New Mics
West End sound designer Rick Clarke chose Supporting member Point Source Audio's SERIES8 microphones as his new standard after they outperformed the mics that were being used in Chicago during the musical production's Germany tour this fall.
When the production moved from Stuttgart to Berlin, Clarke saw an opportunity to improve the mic situation. A quick demo of the SERIES8 earworn, lavalier, and headset style microphones was enough to convince him. Chicago opens in London on Feb. 22.