News & Notices
Member Spotlight: Costumer Rachel Pollock & La Bricoleuse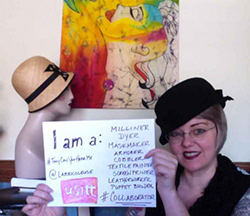 Rachel Pollock, costume maker, crafts artisan, lecturer on costume craftwork at University of North Carolina-Chapel Hill, author of Sticks in Petticoats, and curator of La Bricoleuse costume crafts blog.
USITT: How did you get involved in theatre?
Rachel: My parents are big theatre-goers, so I was exposed to it at a young age. They took me to see plays and musicals throughout childhood, and we were season ticketholders to the community theatre in the town where I grew up. I think I really got the bug when they took me to see the Broadway revival of Oliver! with Patti LuPone in the role of Nancy and Ron Moody as Fagin—I was about the same age as the children onstage at the time. In college, I didn't start out as a theatre major, but wound up as one by the end of my first year.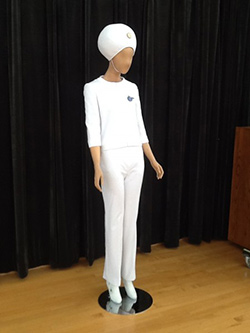 How did you become a theatre crafts artisan?
As soon as I began working at a level where I got to see how a big costume shop ran with multiple draping teams and a dye shop and so forth, I knew the crafts focus was the path for me. I think my first major gig was as a stitcher at the Boston Ballet. I got the job by total coincidence—I was waiting for the bus, having just moved to Boston, and a woman walked by with whom I'd worked summer stock in undergrad. In our quick catching-up, she mentioned that she was at the Ballet and they needed short-term stitchers, so I called them. It was a great time to be a freelancer in Boston, because once you got hired somewhere, you'd be getting calls from the other theatres' costume shops about overhire (temp work) before you were even done with the show you were on. I wound up stitching and first-handing and doing crafts at most of the professional shops in the city within a year's time, after that first gig.
What's the story of your blog, La Bricoleuse? What does the name mean?
I believe in what I like to call "open-source costuming." In a lot of what we do, technique springs from artisan trades like tailoring, dressmaking, millinery, cordwaining, and so forth. Sometimes primary texts on these topics are hard to find, or the information in them is archaic in terms of safe work practices or available materials/equipment. And sometimes, we have to invent the process in order to create the required item. I started the blog because I wanted to contribute to the visibility of the field and the searchable availability of costume production information on the Internet.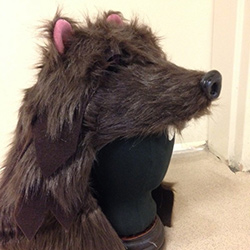 "La Bricoleuse" is a derivative of the French word "bricolage." I had been wanting a term that succinctly explained what it is that I do, because for people outside the costume industry, the word "crafts" tends to have a "white glue and googly eyes" connotation. "Bricolage" means "construction or creation from a diverse range of available things," and one who bricolages is a bricoleur. Or, the feminine, bricoleuse. Hence the name.
You are in USITT national and regional – what does USITT mean to you?
I'd say in both cases it's a meaningful professional community for sharing knowledge and experience and connections. I strive to remain active in the organization for the benefit to my students as well. I encourage them to participate at both the regional and national level for the networking, scholarship and publication opportunities, workshops/symposia, etc.
You are a parasol guru – how did that happen?
On a personal level, I've been a parasol carrier most of my adult life—I had a skin-cancer scare as a teenager, and the dermatologist recommended I minimize my exposure to direct sun. Professionally, while working at the Huntington Theatre, I helped their crafts artisan Denise Wallace-Spriggs recover a parasol and I was hooked. When I came to UNC-Chapel Hill and began to develop the courses I teach in their MFA program on costume craft topics, I knew I wanted to include a parasol project because they so often fall to the costumers instead of the prop masters—they need to match the gown and so forth. That's when I realized that there was a lack of documentation on the process, and that's how my book Sticks in Petticoats came about.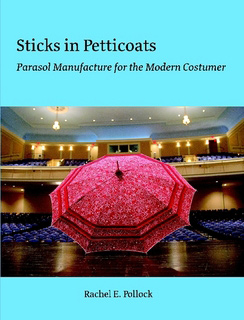 Please describe a fave project you have shared on your blog?
I think my current favorite topic is the applications of 3D printing technology to costume craftwork. I wrote up a project recently where a grad student and I 3D scanned a sculpture originally created to make papier mache masks on, and then we 3D printed a mask from the scan in PLA plastic. But we're really running with that R&D—my students are printing shoe soles and replicas of antique purse frames, and for the mainstage we even recently printed a chopped-off hand for Peter and the Starcatcher! It's exciting to have one more trick in the repertoire.
What's your favorite tool in the shop?
Right now it's a hand tool called lasting pliers, which are meant for shoemaking, but I also use them in millinery and a bunch of other applications. In my shop, we call them "plammers," because they are a pair of hook-tipped pliers with a hammer-head on the side!
Thanks so much! See you in Salt Lake City!