The Last Word:
Entire ETC Staff Enjoys The Force Awakens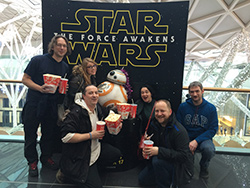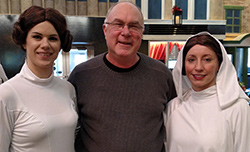 Continuing its tradition of celebrating sci-fi motion picture premieres, Fred Foster, CEO of ETC, closed down the company's global headquarters and spirited all 800 Wisconsin employees off to see the opening of Star Wars: The Force Awakens.
Nineteen school buses shuttled the staff from Middleton and Mazomanie to fill 10 rented auditoriums at a local theater. An exhilarating buzz permeated the rumbling buses as employees, many adorned in Star Wars costumes, chattered about their hopes and expectations.
Attendees found free soda and popcorn awaiting them as well as a full-sized, remote-controlled R2-D2 replica, which was featured in the announcement video. The droid appeared courtesy of Mike Masino, brother of John Masino, ETC product graphics designer, who has been building it for a couple of years, including having some parts painted at ETC.
"We're a company of geeks!" exclaimed Foster. "And we're thrilled to celebrate one of the most anticipated motion-picture releases in history."