News & Notices
USITT-USA Curators Select Finalists to Exhibit at PQ 15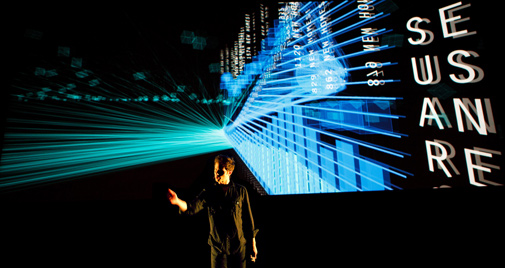 Six primary performance productions have been selected for the USITT-USA National Exhibition to the Prague Quadrennial of Performance Design and Space in June 2015. These and other design works will be exhibited at PQ 15 and at USITT 2016 in Salt Lake City.
The USITT-USA curatorial team chose two productions from Ripe Time Theatre in New York to represent the best of American theatre at the PQ, along with productions from Paul Abacus, a "wandering opera" staged at LA's Union Station, and performance pieces from faculty at Auburn University in Alabama and Colorado College.
The panel – set and costume designer Tony Walton, costume designer Carrie Robbins, sound designer Veronika Vorel, and scenic and lighting designer Kevin Rigdon -- also selected examples of the best scenic, costume, lighting, sound, and projection design to display in the US National Exhibit to PQ, titled Shared Space: Weather Music Politics.
"There were very strong submissions from across this country that covered works from theatre, opera, dance, site-specific installation, performance works, and performance art," said USITT Vice President for International Activities Markéta Fantová, artistic director for the exhibit. "We would like to thank everyone that entered their work. Your support and inspiring work keeps performing arts alive and moving forward."
In addition to those chosen for the US National Exhibit to the PQ, all submissions will be in the USITT-USA 2015 online exhibition, to be available at www.usitt.org/pq2015.
The finalists selected for PQ 15 are:
OVERALL PRODUCTION
Works from specific disciplines selected for the exhibit are:
SCENIC DESIGN
Paul Steinberg; Deidama; Netherlands National Opera, and La Perichole; New York City Opera.
Erhard Rom; A Blizzard on Marblehead Neck and Later the Same Evening; Glimmerglass Festival, Cooperstown, New York.
Sibyl Wickersheimer; The Unfortunates, Oregon Shakespeare Festival; The Thomas Theatre, Ashland, Oregon.
Bryce Cutler; The Lady in Red Converses with Diablo, Arts and Renaissance, Brooklyn, New York.
COSTUME DESIGN
Carol Bailey; The Cunning Little Vixen, Royal Danish Opera.
Alexandra Bonds; Love Will Shake; University Theatre, University of Oregon.
Renee Garcia; As You Like It, Ohio University, Theatre Division.
Rebecca Lustig; Henry VI; The New School for Drama, New York.
LIGHTING DESIGN
Mary Louise Geiger; The Invisible Man; Coproduction of Studio Theatre, Washington, D.C, and Huntington Theatre, Boston, Mass.
SOUND DESIGN
Joe Payne; The Tempest; Utah Shakespeare Festival.
Rick Thomas; Choices, thEDMatre, Purdue University.
Erik T. Lawson; Victor Frange Presents: Gas; Incubator Arts Project, New York.
PROJECTION DESIGN
Joe Payne; A Christmas Carol; Clarence Brown Theatre, University of Tennessee.
Jason H. Thompson; Wingman, New York City College of Technology.