News & Notices
Greenwood Named Distinguished Achiever in Costume Design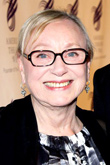 Jane Greenwood, Broadway's master of period costumes, will receive USITT's 2015 Distinguished Achievement Award in Costume Design.
Since moving to New York City from Britain in 1962, Ms. Greenwood has created costumes for over 125 Broadway shows. She recently won a 2014 Tony Award for Lifetime Achievement in Theatre and has taught costume design at Yale School of Drama for 38 years.
Although she learned her craft in England, she considers herself an American designer. "I've been working here for 50 years, so I don't think I can avoid that fact," she said.
She started out at Liverpool Art School, and then went to London's Central School of Arts and Crafts. "It was on Southampton Row, and taught allied crafts and theatre design, and I spent three years there, from 1954 to 1957," she said. "It was a great melting pot to be in at that time."
Her teachers included Norah Waugh, author of Corsets and Crinolines; Royal Shakespeare Company stage designer Ralph Koltai; and set and costume designer Desmond Heeley. Ms. Greenwood roomed with Janet Arnold, a pioneer in historical costume research. Roger Furse's costumes for the Laurence Olivier movies Henry V (1945) and Hamlet (1948) were a huge influence.
"They were very romantic and very eye-catching," she said. "England was coming out of the Second World War, and there was renewed interest in all of the arts. A vivid and exciting time."
Working at the Oxford Playhouse, she met designer Tanya Moiseiwitsch, who invited her to the Stratford (Ontario) Shakespeare Festival. Two years later, she moved to New York. In 1963 she designed for her first Broadway show, The Ballad of the Sad Café, and married its producer, scene designer Ben Edwards.
She's been there ever since and has been teaching at Yale since 1976.  She also has designed for TV, and films including Arthur and Glengarry Glen Ross, but she ultimately had to choose between doing movies and teaching.
"I thought long and hard about it and decided to teach at Yale," she said. "I love the enthusiasm of young people."
Like her Hollywood contemporary Ann Roth, Ms. Greenwood is famous for matching the clothing to the period with dead-on accuracy. She also loves the challenge of new works, like this year's Act One, set in the 1920s, and the Steve Martin-Edie Brickell musical Bright Star at The Old Globe Theatre in San Diego.
"It's about a young woman living in Ashville, N.C in 1923, then it moves forward to 1945, and time keeps floating backward and forward," she said. "I found it fascinating to try and work out how to portray people in those two periods. It meant changing everything – underwear, shoes, wigs – and it was exciting to work in those two periods in juxtaposition."
"And that's what happens," she adds. "Each time you design a production there are different challenges. And that's what's really, really, really, really exciting about theatre."