News & Notices
Bahrain Theatre Earns Top Architecture Award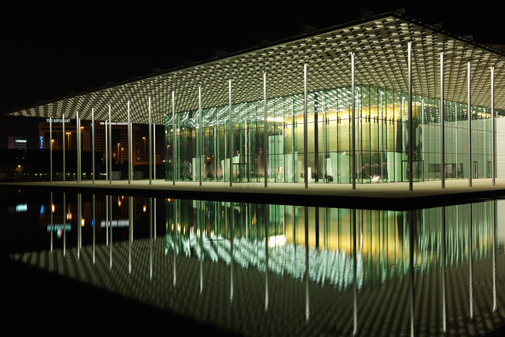 The National Theatre of Bahrain is the top winner of USITT's 2015 Architecture Awards for exceptional performance spaces, while new performing arts buildings at theatre schools in London, United Kingdom, and Portland, Oregon, also will be recognized.
The Bahrain National Theatre, designed by AS.Architecture-Studio in Paris, France, with Theatre Projects Consultants of London, will receive USITT's 2015 Honor Award in Architecture. The 1,001 seat theatre became one of the largest theatres in the Middle East when it opened in 2012 on the island of Bahrain, off the coast of Saudi Arabia.
Receiving architectural merit awards will be Milton Court, the performing arts building at the Guildhall School of Music in London, and the Performing Arts Building at Reed College in Portland.
The Architecture Commission will present the awards at the Annual Conference & Stage Expo March 18 to 21 in Cincinnati. The Conference also will offer more than a dozen architecture sessions, several for AIA/CES credit.
The Bahrain National Theatre is a $50 million work of art occupying 12,000 square meters on the Lagoon in capital city Manama's commercial district. Its "extreme horizontality" in shimmering glass and aluminum reflect the Persian Gulf archipelago, while its canopy of open-weave aluminum evokes the country's traditional wicker roofs, the architects wrote.
Inside, the curving, elm-paneled walls of the performance hall resemble the inverted hull of a ship, a tribute to the region's ancestral pearl-fishing boats. The main hall has an Italian theatre layout, with long side balconies and two tiers of rear balconies.
Theatre Projects Consultants also worked on Milton Court, a $142 million project designed by RHWL Architects of London. The building, which opened in September 2013, provides new performance and teaching spaces for the Guildhall School of Music and Drama. It includes a concert hall of up to 608 seats, a theatre of up to 227 seats, and a 128-seat studio theatre.
Merit award winner Reed College's new $28 million Performing Arts Building consolidated theatre, dance, and music programs formerly spread across the college's 128-acre campus into one 78,000-square-foot building, designed by Opsis Architecture of Portland with consulting by Fisher Dachs Associates of New York City.
The Architecture Awards are chosen based on creativity, contextual resonance, functional operation, use of new technology, and community contribution. The projects will be represented in a special exhibit at the Conference, with an awards reception in their honor.