News From
Contributing Members
Meyer Sound: McMahon Named New VP of Solutions and Strategy
Meyer Sound has appointed John McMahon to the newly created position of Vice President of Solutions and Strategy.
Working closely with CEO John Meyer and Executive Vice President Helen Meyer, Mr. McMahon will oversee the broad-based strategic planning for new products, product management, and multi-product solutions across various vertical markets. The new Solutions and Strategy Division aligns product management, design services, technical support, and education under one umbrella to create a common understanding of strategic initiatives among Meyer Sound's technical and customer support teams. In addition, Mr. McMahon will continue to spearhead the digital product concept group.
McMahon has been part of Meyer Sound's executive team since 2008. A Canadian citizen, he joined Meyer Sound in 2005 during the acquisition of Level Control Systems (LCS Audio) where he served as CEO. His interest in music and technology began at the age of six, when he began tinkering with circuit boards and designing loudspeakers. This early interest provided the basis for an entrepreneurial career that included the founding of Cadence Digital Audio in 1992 and ultimately led him to Meyer Sound.
A high point of McMahon's leadership at Meyer is his work on the Constellation acoustic system, which has become a significant component of the company's growth during his tenure.
More information is available at 510-486-1166, Fax 510-486-8356, or e-mail winnie@meyersound.com; or by visiting www.meyersound.com.
Philips Entertainment: Conducts "The Symphony of Light" at LDI 2014
Philips Entertainment showcased award-winning products from Philips Selecon, Showline, Philips Strand Lighting, and Philips Vari-Lite through "The Symphony of Light" at LDI 2014 November 17 to 23.
Each day, "The Symphony of Light" featured the electronic violin styling of Elizabeth Bacher and fully demonstrated the power of the complete lighting and controls package from Philips Entertainment.
The company's booth was designed for full lighting demonstrations as well as hands-on opportunities. Two separate demo areas featured Vari-Lite and Showline luminaires in one and Strand Lighting controls and Selecon luminaires in the other. There were interactive stations to allow participants a chance to actually use the products.
Additionally, Philips Strand Lighting celebrating its 100th anniversary of lighting innovation; a milestone unsurpassed by any other in the lighting industry today.
New Philips Entertainment products debuting at LDI include the PLASA Innovation Award-winning Philips Vari-Lite VL4000 Spot luminaire, the Philips Strand Lighting NEO lighting control console with full accessories, the Philips Strand Lighting 2014 PLASA Innovation Award-winning Emergency DMX Bypass Switch, and the Showline SL PAR 155 ZOOM.
ETC: Forges Partnership with GDS , Patton Named Product Specialist
ETC (Electronic Theatre Controls, Inc.) has signed a licensing and manufacturing agreement with United Kingdom-based GDS (Global Design Solutions).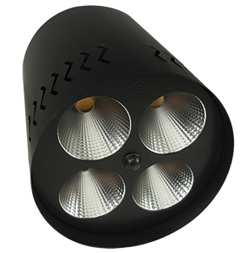 Under the agreement, ETC will manufacture the GDS ArcSystem and BluesSystem product lines for distribution in North and South America. GDS will continue to manufacture and distribute ArcSystem and BluesSystem for other worldwide markets from the company's Bristol, U.K., headquarters.
ArcSystem is an award-winning range of overhead dimmable LED products designed specifically for auditoriums and commercial and retail spaces. Most recently, the GDS ArcLamp won 2014 PLASA Awards for Innovation and Sustainability, marking the second time that a single product has won both awards; the first time was in 2011 when the ArcSystem was awarded both simultaneously. ArcLamp is a series of screw-based LED lamps designed to be a direct replacement for their incandescent predecessors.
BluesSystem is a system of dimmable LED blue running lights that were designed for placement in catwalks, stairways, backstage hallways, and tight spaces that require discrete illumination during live productions. The BluesSystem allows designers to plan for and seamlessly integrate blue running lights into the overall design of theatrical and studio spaces.
Additionally, ETC announced that Chris Patton has joined the team as a product specialist. Mr. Patton has over 15 years' experience in the entertainment technology industry, including 12 years working for a U.K.-based ETC dealer. For the last three years, he has worked with GDS both at the UK factory and throughout North America.
Vincent Lighting Systems: Launches Online Store
Vincent Lighting Systems' new online store at shop.vls.com is up and operational.
Completely redesigned, the new shopping platform offers expanded descriptions, more powerful search results, and lower prices on some of the most popular items.
Shopping for lighting and scenic supplies at any time of the day or week is now easy and convenient. Orders can be shipped or picked up from the Cleveland, Cincinnati or Pittsburgh locations.
Existing VLS customers with approved terms can buy using purchase orders; however, they need to set up ahead of time. Contact the company at product@vls.com or at 1-800-922-5356.
Customers can take advantage of the online store or contact Vincent in annother preferred method: online, e-mail, phone, fax, or regular mail.