News From
Sustaining Members
Cobalt Studios: Opens Enrollment for Scenic Artist Training
Interested in becoming a scenic artist? Enrollment is open for the 2015 - 2017 Scenic Artist Training Program at Cobalt Studios.
Cobalt Studios provides quality apprentice-style training to people interested in pursuing careers in scenic art. The program is about teaching and doing. Classes are a combination of lecture, demonstrations, individualized projects, and practice.
Find out more on the Cobalt website or call 845-583-7025.
Chauvet: Rogue Revolutionizes Spots and Beams
Chauvet Professional's new Rogue Series is taking conventional ideas about what to expect from moving spots and beams and turning them on their head. Delivering more power, punch, and features at a decidedly lower price, Rogue is making its presence felt at high-profile events like the Garth Brooks World Tour with Trisha Yearwood, as well as at local clubs and churches.
Lighting Designer Michael Meacham used 16 Rogue R1 Beams to create bursts of light over the center of the dance floor at Tokyo's hottest new club.
"We saw these lights at InfoComm in Vegas and were really impressed by their capability in a convention center setting. It's one thing to see these lights in a large building, but it's another to see how well they perform in a smaller setting. When we turned on the Rogue fixtures at ELE, we all looked at each other with huge smiles in awe," he said.
Theatre Projects: Dr. Phillips Center New Orlando Performing Arts Jewel
The recently opened Dr. Phillips Center for the Performing Arts makes Orlando, Florida the proud home to a world-class performing arts center that will attract patrons from across the region, serve as a home for community arts groups, provide a nexus for arts education, and contribute even further to the city's reputation as a tourist mecca.
The 330,000 square foot building was a collaboration among Theatre Projects, Barton Myers (design architect), HKS Architects (executive architect), and Baker Barrios (associate architect).
It was a project nearly three decades in the making.
Theatre Projects first began planning an arts center for Orlando in 1985 when city officials hired them to determine whether the city could support such a facility. At the time, the city could not accommodate the performing arts center, but a reevaluation 10 years later found the city was ready for the ambitious undertaking.
At the heart of the Dr. Phillips Center is the 2,700-seat Walt Disney Theater—a multipurpose theatre, ideally suited to host ballet, drama, musicals, rock concerts, opera, and more.
The center's second theatre, the Alexis & Jim Pugh Theater, offers a flexible and engaging environment, perfect for community theatre groups, smaller touring companies, and student-produced shows. The 299-seat courtyard theatre features audience and technical balconies and an adjustable stage—capable of flat floor, thrust, endstage, promenade, and in-the-round configurations.
In the building's south end, a block of classrooms and a specialized rehearsal room featuring an overhead pipe grid, compose the Dr. Phillips Center School of the Arts in keeping with the center's commitment to enriching the community through arts education.
The second phase of the center will include the1,700-seat Acoustic Theater, a multiform theatre able to transform its shape and acoustics to perfectly suit opera, ballet, symphonic music, and non-traditional art forms.
Nemetschek Vectorworks: Releases European Versions of Vectorworks 2015
Nemetschek Vectorworks, Inc. recently made localized versions of Vectorworks 2015 available in German, French, Dutch, Italian, Portuguese, and Norwegian. The Vectorworks line of award-winning software products includes: Designer, Architect, Landmark, Spotlight, Fundamentals, and Renderworks.
The Vectorworks 2015 software contains more than 100 updates and new features in the areas of architecture, building information modeling (BIM), urban planning, and entertainment design. In previous versions, the power of 64-bit was only available in the platform's photorealistic rendering engine, Renderworks, but has now been integrated throughout the entire Vectorworks 2015 product line. In addition, designers will observe a revolutionary graphical experience from advances made to the Vectorworks Graphics Module (VGM), which was introduced last year.
Additional information about Vectorworks 2015 is available online at www.vectorworks2015.net. Visit www.vectorworks.net/international to find a local distributor.
Mega Systems: Introduces Outdoor Rated Idol Lite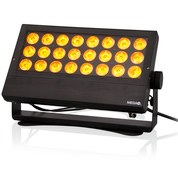 The Idol Lite is the latest LED outdoor rated IP 65 fixture from Mega Systems' Mega-Lite. This powerful unit has 24, 12-watt Penta (five-in-one) RGBWA LEDs. This wash fixture has 25-degree lens angle. The unit is controlled via DMX-512 with three, five, and eight channel modes. It is flicker free with a 1200K refresh rate, making it camera ready. Energy efficient, the Idol Lite only consumes 151 watts (1.32 amps) at 110V.
The Idol Lite has Neutrik Heavy Duty IP rated 3pin XLR DMX connectors. It has Neutrik True Power in and out, and comes with a Neutrik True Power connection cord. The unit has a single yoke and comes with two accessories: a base plate and a quick release clamp mount for easy fastening. It is an excellent fixture for production or installations because it can be used indoors and out.
For more information, visit www.megasystemsinc.com.
GLP: Designer Breaks Tradition as GLP X4 Joins Foreigner Set
Experienced production designer Cosmo Wilson fondly remembers the first time he used GLP impression fixtures: it was on AC/DC's 2008-2009 Black Ice Tour, where he lit the memorable giant train set-piece, an iconic element of the show.
"I found that the saturation was stellar," he recalls. Prior to that he had been strictly a traditional "Par Can LD" - critical of the look of the early LED sources and throw distances.
Six years later, with Foreigner and Styx embarking on a joint headline tour, LED technology has evolved greatly. For Foreigner's United Kingdom dates earlier in the year, Mr. Wilson deployed impression RZ120 Zoom to light the Foreigner sign. This allowed him to make visual comparisons with his favored conventional pars on his way to moving up to the impression X4 series - GLP's current touring workhorse.
"I was impressed with the throw of the X4 and mainly the fact that they mimicked Par cans more than any other LED Par I had used. This was a defining moment for me." It convinced him to specify them for the Foreigner/Styx tour. The tour budget specified 64 of the fixtures.
"My whole Par can look is the amount of lights on at any given time, and typically in my rig, the 'big' look will be half my rig," he explained. With six colors (three hot and three cold) in a 120 Par can show, it was these intensity driven "bumps" that he needed to emulate in the LED domain — with occasional use of the zooms to create different song looks — offset by 18 bars of ACL and 20 4-way audience blinders.