Commissions
CoPA Makes Mainstream Appearances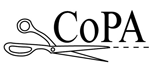 A citation for the Commercial Pattern Archive (CoPA) appeared in the New York Times June 20 review of A History of the Paper Pattern Industry: The Home Dressmaking Fashion Revolution by Joy Spanabel Emery.
The book was developed from working with dressmaking patterns in the Archive and recorded in the digital database, CoPA. (For a review of the book: see TD&T, Summer 2014).
The Archive also was recognized as a contributing partner to the University of Rhode Island Textile, Merchandizing, and Design Department in April at the annual Spring Fashion Show and Awards ceremony.
There have been numerous donations to the Archive during the past year. Over 3,000 patterns have been added to the database, CoPA, which now has more than 56,500 records. Digitized images of the new patterns have been appended to the database. Other new donations include 133 counter catalogs dating from 1936 and several late 19th century patterns from the Fashion Institute of Technology in New York.
The online CoPA, is available by subscription. Information and rates are posted on the website. For more information about the project or to inquire about making a donation, contact Joy Emery at jemery@uri.edu. The project was assisted almost 20 years ago by a grant from USITT.