Conference & Stage Expo
Rolling, Lights, Camera, Action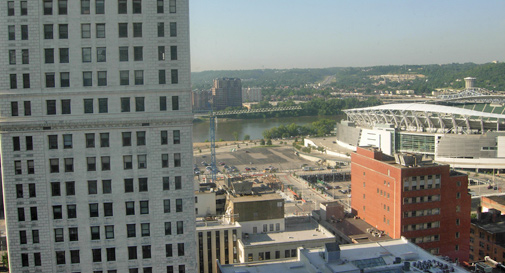 Cincinnati has been featured as a location in television programs and films over the years, and 2014 is no exception. Cate Blanchett was here in March and April filming Carol. July and August brings Miles Ahead featuring Don Cheadle as director and actor portraying jazz great, Miles Davis, and also starring Ewan McGregor. Prior to this year, notable films included Eight Men Out, Rainman, Little Man Tate, Lost in Yonkers, Crossing Fields, People Like Us, and Ides of March.
When people arrive for the 2015 Annual Conference & Stage Expo, they will be surrounded by places that feel familiar... and places that will soon appear on the "big" screen.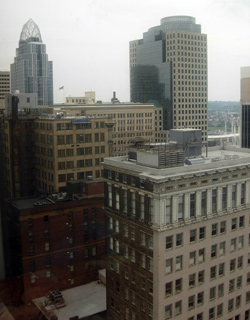 According to IATSE 209 crew members, more films are locked into dates in the near future. Work abounds in casting for extras and production departments, not to mention the need for housing, transportation, meals, and entertainment of cast and crews, providing much needed work for the local population. Check out Local 209's website.
One reason for this boom is the abundance of locations in downtown Cincinnati, Over the Rhine, Cheviot, Oakley, Mt. Adams, and surrounding communities in Ohio and Northern Kentucky. They afford a variety of architectural details and population diversity. Everything from back alleys, city and neighborhood streets, highways and parks, to exteriors and interiors of buildings and houses are being scoped out for location possibilities. Production companies are helped by the Cincinnati and Northern Kentucky Film Commission in getting permission for filming sites and location logistics.
Wonderfull views of the city can be seen from the costume department of Miles Ahead located in the Carew. These experiences have heightened the awareness of the job opportunities for designers and technicians available in the film industry right here in Cincinnati.
There is a possibility that a film will be in production during the 2015 Annual Conference & Stage Expo March 18 to 21.
Cut! Print!